At a Glance
Expert's Rating
Pros
New layout optimized for widescreen displays
Improved conversation display
Upgraded search capabilities
Better integration with webmail and Exchange accounts
Cons
Most innovations already available in other programs
Our Verdict
The new version of Mail included with OS X Lion, Mail 5.0, is a radical change from the past—and, at the same time, it isn't. Mail 5's additions represent a welcome refresh for Apple's dependably sturdy email client, though the program blatantly borrows most of its new features from other, earlier innovators.
For Lion, Apple's given Mail a serious facelift. A new "widescreen" layout, echoing Microsoft Outlook 2011, displays the selected mailbox's messages in a vertical column, adding a short preview of each message's text to the traditional sender and subject. When you select a message, the message's contents now appear, by default, to the right of your message list. In an elegant touch, you can now select multiple contiguous messages just by clicking on one and dragging the cursor up or down the list, rather than having to hold down the Shift key.
The traditional mailbox (folder) list remains on the left, but you can now easily slide it out of sight to reduce onscreen clutter. The colorful icons of Snow Leopard's Mailbox list and toolbar have been replaced by versions with a boxy, uniformly gray look in Lion. Just below the toolbar is a new Favorites Bar, similar to Safari's Bookmarks Bar, for storing shortcuts to the mailboxes you use most often. I liked the new layout once I got used to it, but if you're feeling nostalgic, you can easily restore the old look via Mail's Preferences.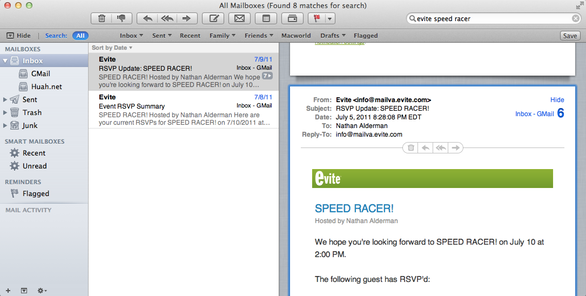 At long last, Mail can display entire conversations—including both sent and received messages—in the message pane, rather than making you hunt through multiple mailboxes to track down all the messages in a thread. I appreciated the numbers that denote each message in a conversation, and the ability to reply to, forward, or delete specific messages directly within a conversation.
Apple has also sharpened Mail's search features, although the benefits aren't immediately apparent. When you type words or phrases into the search field, Mail no longer simply looks for that text within various fields in your messages. Mail now recognizes people from Address Book, attachment names, and even dates—as vague as "last week"—and converts them into "search tokens" that you can combine to quickly specify exactly what you seek. The dynamic drop-down menu next to each token lets you choose how Mail searches for that particular bit of text. For example, with a few clicks and keystrokes, you can now tell Mail to find every message from your sister in the last month with "airport" in the subject line. It took me a few minutes to figure out these new abilities, but once I did, I really appreciated them.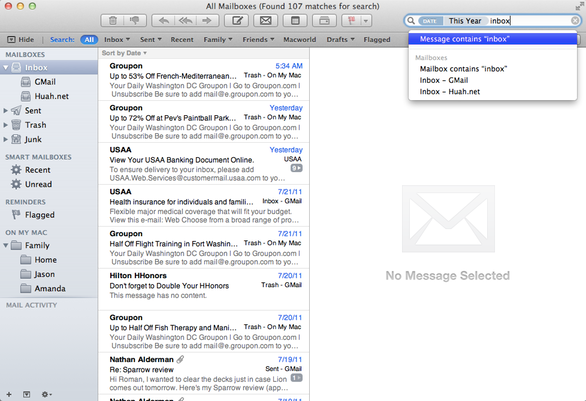 Mail also makes adding your Webmail accounts easier than ever—no more poring over online instructions or typing in lengthy server names. Instead, using the Accounts screen of Mail's Preferences window, you just choose the email provider, then type in your email address, name, and password. Mail automatically recognizes Gmail, Yahoo! Mail, AOL, MobileMe, and Outlook addresses, and does all the heavy lifting of setup for you. Configuring my Outlook account, provided by my job's sequestered servers, was a bit tricky in the previous version of Mail, but Mail 5 configured it in a snap, even without a VPN connection. (You can also set up these accounts within the Mail, Contacts & Calendars pane in System Preferences.)
Users craving organization can now flag their messages in one of seven colors; a new "Flagged" header in the Mail's mailbox list shows all flagged messages, and you can expand this header to display only those messages flagged with a particular color.
I came away from Mail impressed by the sheer number of elements you can now customize via Preferences. From the detail visible in message headers to the length of each message's preview text, you can tweak Mail to your exact liking with little trouble. That's good, because Apple unfortunately decides to show you the least possible amount of information by default. I wish Mail 5's programmers had struck more of a balance here, but I'm guessing Steve Jobs' well-documented love of minimalism prevailed.
One caveat: Trying to browse and recover old messages within Mail from a Time Machine backup stored on a Time Capsule, via an 802.11n wireless network, proved difficult. In my first few attempts, Time Machine was unusably slow and completely unresponsive. A later try worked fine at first, but froze up when I attempted to access backups that preceded my upgrade to Lion. After several tries, I finally managed to view older incarnations of my mailboxes. If you need to restore mail via a wireless connection, be prepared to be patient.
Macworld's buying advice
As with many Apple programs these days, Mail 5 aims squarely at middle-of-the-road users, while keeping things simple enough to welcome novices. Power users with industrial-strength business needs will almost surely prefer Outlook's sophisticated, integrated approach to calendars, contacts, and day-planning reminders, while those who like their email clients featherlight and free of all distractions can turn instead to third-party programs such as Sparrow. As it always has, the new Apple Mail offers a feature set good enough for the broad majority of everyday users, executed superbly, and integrated tightly with OS X.
[Nathan Alderman is a writer, editor, and emoticon iconoclast in Alexandria, Va.]