A year ago, when I went to Comic-Con International as a rank newbie, there was a lot of hubbub about how digital comics threatened traditional comic-book shops. This year I returned to San Diego's massive pop-culture expo as a veteran, and it seems like the comics industry is starting to accept that digital comics are here to stay.
The biggest change in the past year was the DC Comics announcement that all of its comics would be available on digital devices the same day they're in comic stores. At Comic-Con, Marvel Comics said it would get there too, eventually. That's a big deal, because just as Netflix and Hulu are now being forced to delay content in order to appease traditional sales channels, physical comic retailers had been using their exclusive access to the latest and greatest comics as a bulwark against the inevitable move to digital.
This is not to say that this small, oft-troubled industry has finally gotten it. Those DC books will still be priced the same as their print editions for their first 30 days of existence—so that digital sales don't undercut retailers. But at least they'll be out there on day one, available to anyone who's got an iOS device, an Android phone, or a Web connection.
Imagine an industry that's unable to mass market its products. That's been the sad state of affairs for the comic-book trade for years now. As I heard from more than one industry person over the course of my two days in San Diego, the industry's reliance on comic-book retailers prevented any national ad campaigns.
"How could [the comics industry] do a Super Bowl ad?" asked Scott Kurtz, creator of PvP, during one panel discussion. "'Coming soon, maybe to a store near you. Or maybe not. And if there is a store near you, it might be smelly."
"Also, not if you live in the two-thirds of the U.S. that don't have a comic store near them," comics writer Mark Waid added.
But starting this fall, all of DC's comics will be available to anyone with an Internet connection—and there will be a big ad campaign, too. There's no way to tell whether marketing and the availability of new comics on iPads will truly grow the comics market, but at least they're trying. If anything can help the comics industry make inroads with new readers, it's the iPad.
"There is room to grow the comic industry," said Milton Griepp, CEO of ICv2. "It's a very tiny market, but people may know the [characters] from other media, and don't live near a comic store or a bookstore that covers graphic novels."
Speaking of reaching new readers: Though the most common ways to read comics on iOS devices are via Comixology's Comics app and iVerse Media's Comics+ app, independent comics publisher IDW said it's experimenting with the new fixed-layout book format available in Apple's iBookstore. (That format is much more appropriate for image-heavy works, as opposed to all-text books.) The publisher is targeting full, self-contained books for iBooks and Kindle purposes, while the comics apps are more appropriate for single issues of continuing storylines.
And many Comic-Con pros say they still feel there's life in the business of selling comics on paper—at least in the form of trade-paperback collections. "[Comic shops] were scared of trade paperbacks too, and they're now a huge part of our business," said Chris Powell of Lone Star Comics. "Digital on the surface does not scare us. It is something we have to adjust for and prepare for." Powell said that a friend of his suggested a new comic for him to try: "I bought the first three issues digitally, then bought the trade paperback. I can't be alone in doing that."
Formatting for the iPad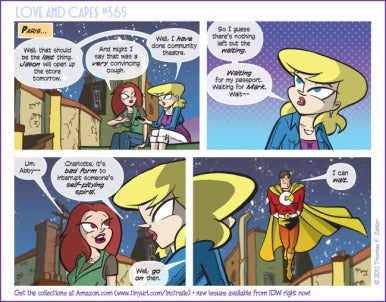 At Comic-Con, several comics professionals pointed out that many comic creators are now considering how their work displays on the iPad's 4:3 screen during the creation process. "The dumb thing we do for digital now is create it for print, then ram it into digital," Waid said. "Landscape mode is more fitting [for iPads and computer screens]. We should design for digital first and worry about print later."
But most comic-book retailers are inflexible when it comes to stocking books. "Comic shops don't want things that are the wrong shape," Kurtz said. "They want me to change the shape of my book to fit their shelves."
The most common way to serve both markets seems to be to design a comic as a series of landscape images. Stack two of those landscape images on top of one another, and you've got the traditional portrait aspect ratio of a printed comic book. Thom Zahler, writer and artist of the Love and Capes webcomic, said that he specifically designs his comic in that fashion, and paces his story according to the rhythm of those half-page chunks.
Then there's comic artist Reilly Brown, who's creating a digital-first comic specifically for Comixology's Guided View technology, which pans and zooms through frames of a comic book when you tap. Guided View was created so that the Comics app could lead a reader through a traditional comic page frame by frame, but Brown said he was using camera panning for a "kinetic feel," even though there's actually no "original" comic page in the work.
The end of scarcity
Another great feature of the digital comics era is the ability for publishers to directly sell their back issues to readers, especially those who aren't interested in collecting the rare, physical comics. That's fantastic if you're someone who's interested in diving into comics, but is intimidated by having to prowl through a comic store or online to find particular issues.
Still, it's a way of thinking that comic-book retailers are going to have to wrap their heads around. At the Comixology panel at Comic-Con, one retailer suggested integrating local comic shops into the Comics app, so that if you were browsing a $2 back issue of "Swamp Thing," the app would also let you know that you could buy that back issue on paper at your local retailer for $15.
(I don't think he gets it.)
Fear of piracy
As with other forms of media that made the transition to digital, pirates embraced digital comics long before the comic-book publishers did. While every single comic was uploaded to BitTorrent sites within hours of release, many comic publishers and creators were reluctant to make their work available for sale on the Internet.
Even in the last year, though, I've noticed a remarkable softening in the attitudes of the industry. I think comics people have gotten it and no longer are afraid of the digital world—or piracy.
"We don't have the luxury of anger or moral posturing at this point," Waid said. "Piracy exists as sure as air and water exist." He cited the case of comic artist Steve Lieber discovering that his entire graphic novel had been posted online. Rather than have a major freak-out, Lieber talked to the people who pirated his work, discovered how much they liked it, and in the end "saw a major boost in his sales," according to Waid.
Kurtz, who gives away his content on his website, makes money from ads on the site as well as the sale of physical goods. "If illegal downloads are happening, it means there's an audience for your stuff. Lots of people would kill to have thousands of people downloading their stuff for free."
"Interest [in your work] can't put bread on your table," Waid said. "But it's a pretty good audience… There is a culture of entertainment consumers that understands that the work has an intrinsic value, and they want to honor you and they want to give you money.
"When you sell something for a lot less than it's worth to pirate it, then you've [got something]," said comic artist Tim Bradstreet. "Piracy is marketing, to some degree. The word gets out…. You sell it for 99 cents, most people are going to [buy it]."
"The economic model of how you earn money as a creator in the mid-21st century is going to be very different," Waid said. "What it is [going to be], I don't know."