Bert Monroy paints with pixels. His canvas is a monitor, his paintbrush is a stylus, and his art looks like you took an HDR-panorama photo of a vivid dream. When you look at his paintings, you can see every tiny detail in the scene without depth of field or frame distortion—the effect aims to be more true-to-life than mere photographs.
As a design veteran, professor, artist, and Adobe Photoshop pioneer, Monroy has been using Photoshop since 1988 for everything from clip art to still life. He even helped develop the software over the years, from testing it to creating brushes. (You know the maple leaf and the blades of grass brushes? Those are his.)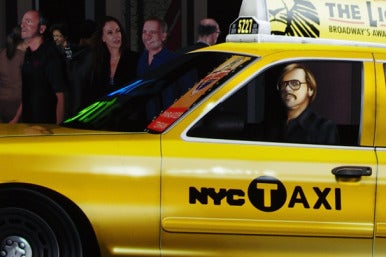 His latest piece—called Times Square—is a gigantic painting of the New York City thoroughfare, measuring 5-by-25 feet. It has a breathtaking 750,000 layers and took four years to complete.
Monroy's masterwork is on display at the Photoshop & You exhibit in San Francisco, where this week the artist described his vision and process to an enthralled audience. Like the professor he is, Monroy recounted how he fixed every detail in the image—from the billboards of Times Square to the lamps in the hotel rooms. Each element—like a streetlight—was comprised of dozens of layers, making the final Times Square file 6.52GB.
Printed on Epson's DisplayTrans Backlight Media with an Epson Stylus Pro 11880 printer, the painting is designed to be illuminated from behind. Its neon, billboards, and streetlights shine out at the viewer, engulfing the senses, like the real Times Square.
Monroy envisioned his Times Square panorama to closely resemble the real New York scene. Everyone in the picture looks as if they are off in their own little world—just like real New Yorkers.
"If you're in Times Square, everyone is telling a story," he said. "They are amazed or very serious or on the way to do something."
But Monroy's interpretation of Times Square is something like Where's Waldo for the digital imaging industry, as the street's inhabitants are significant and specific. Photoshop founders, brothers Thomas and John Knoll, stand nonchalantly in foreground while Dan Steinhardt of Epson deals a fast game of Three Card Monte on the right side of the image.
"Everyone in the painting is someone I know," said Monroy, "and the people who have their back to you are real people in Times Square when I took the reference photos."
Monroy featured many friends, his wife, his son—and even himself—in the picture. (He actually appears twice, once as a young man driving a cab, and once as his current self, taking a photo.)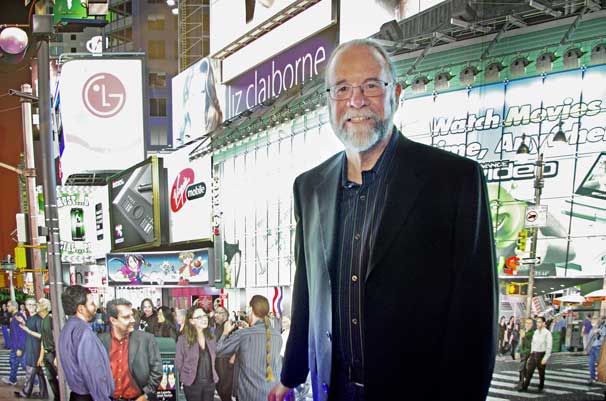 Over four years of working on the piece, Monroy took eight trips from the San Francisco Bay Area to New York and over 8,000 reference shots of Times Square. Back home, he would work 12 to 14 hour days tweaking layer styles, creating brushes, and placing every hair perfectly on the heads of friends and family. He fixated on getting every detail perfect—from the iPhone ad on a billboard, to the reflections of the lights in people's eyes. He made his friends pose for different scenes and represented them in the most realistic way possible, not necessarily the most attractive way. "I had people tell me, 'you could have made me look younger,'" Monroy said, "but I wanted them to look how they really looked."
Though he primarily worked in Photoshop to create Times Square, Monroy mapped the image in Adobe Illustrator, aligning vectors and using vanishing points that disappeared far off of the page.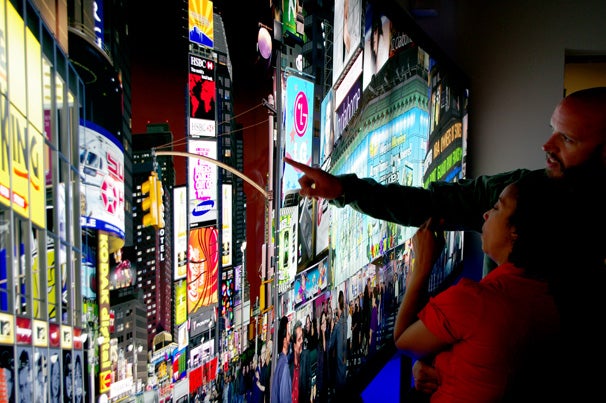 What about data loss disasters? Happily, Monroy kept those to a minimum. "I learned that lesson way back with MacDraw," he said. "I was working on something in New York City in 1985, when all of a sudden, there was a brownout. The lights went out for just a second and my machine restarted. I lost about two hours of work."
Monroy created Times Square on an 8-core Mac Pro, a 30-inch Apple Cinema HD display, and two 20-inch Wacom Cintiq touch-sensitive tablets. He used one tablet as his easel for drawing and the other as his pallet to hold Photoshop panels. To keep up with his workflow, Monroy had two Macs in operation—one for the large file, and the other for details that he could work on while the large file was saving. "Saving meant going to lunch," joked Monroy at the Photoshop & You presentation.
Throughout the project, Monroy worked with four different versions of Photoshop (two alpha and beta versions), learning more about the program as he progressed. "There were a lot of things that I actually re-did because the techniques just got better," he said. "If I went back and re-did everything that I could have re-done, I would have never finished. At one point I had to stop and accept that it shows the evolution of the whole painting and the technology."
Bert Monroy is a professor at San Francisco State University and has written several books on Photoshop—and co-authored the first book ever written about the program. Times Square is on display at the Photoshop & You gallery at 550 Sutter Street in San Francisco until August 6. Admission is free.
[Lauren Crabbe is an editorial intern for Macworld.]