If you didn't read the small print before you installed Lion you may have restarted your Mac to a bit of an unpleasant surprise. Rosetta, the invisible emulation environment that was a part of both Leopard and Snow Leopard and allowed you to run PowerPC applications, has gone the way of the dinosaur with Lion.
Unfortunately, this means that Quicken, Intuit's deprecated but still ubiquitous personal finance management application, will no longer work on your Mac. Quicken Essentials ( ) is available for the Mac, but in terms of features and capabilities, it is not equal to nor a replacement for Quicken. How do you manage your personal finances if Quicken won't work with Lion? Fortunately there are several alternatives to help you keep tabs on your cash flow.
iBank
IGG Software's iBank ( ; $60, Mac App Store link) has long been the heir apparent to the Mac personal finance empire. Thoughtfully designed and easy to use, iBank is updated on a regular basis and the developer is attentive to customer needs, which means that the features you want typically show up when the application is updated.
What makes iBank a worthwhile replacement for Quicken is the fact that, like Quicken, it is capable of automatically downloading your banking information. What's more, if iBank can't import the data automatically, it's intelligent enough to use your bank's Web banking site to automatically import the files that you download manually. Great graphs, great features, and intelligent design make iBank an excellent Quicken alternative.
Moneywell
No Thirst Software's Moneywell ($50; Mac App Store link) remains one of my favorite personal finance applications largely because it helps you budget your finances, rather than just helping you see where you've spent your money. This makes Moneywell different—and I think better—than almost every other personal finance application currently available for the Mac.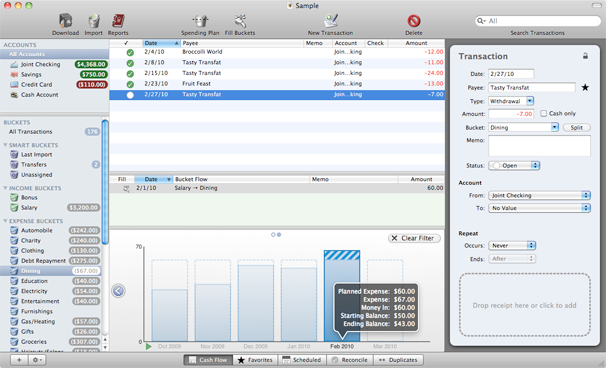 Moneywell uses the "envelope" method of money management to help you divvy your dollars up before you spend them. This makes it quick and easy to see whether or not you're living within your budget and it also makes it possible for you to take cash from one category and, when necessary, use it in another. Like iBank, Moneywell makes it easy to import your banking data, and offers excellent graphs and a number of other tools to manage your income and expenses.
Money 4
Money 4 ($19; Mac App Store link) is Jumsoft's Quicken alternative and, like iBank, is often updated and constantly adding new features. Money 4 has the look and feel of most Apple applications, a small sidebar on the left displays a list of all your accounts and a collection of the tools you'll need to view reports and manage your finances.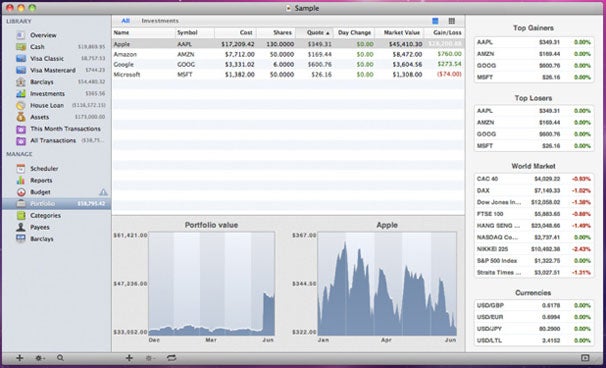 While Money 4 doesn't quite have the depth of features of iBank or Moneywell, it offers up enough (including thirteen financial reports) to help you keep a tab on your finances. It also does a great job of importing the banking files you download from your bank.
Mint.com
While it's easy to complain about Intuit and the fact that they seem to have left Quicken users out in the cold, you may want to consider the company's stellar online personal finance management alternative, Mint.com (free). While you may be reticent to leave your financial data hanging around in the cloud, there are some features about this web-based app that make it particularly valuable. First, it's capable of connecting to and automatically collecting data from virtually every financial institution that you work with, from your mortgage company to your local bank. Second, with a very little bit of training, Mint.com can take that data, categorize and analyze it so that you can see exactly how your cash is flowing and where you need to tighten your belt.
The only downside is that, while Mint.com is free, you will find yourself being gently pitched for new credit cards and bank account options. Plus, the cloud can be a scary place to keep your personal banking info. That aside, for me, Mint offers the best, most Quicken-like experience of all the applications offered here.
A word to the wise
Chances are that if you're a long time Quicken user, you've invested quite a bit of time in the application and you have a significant amount of data saved in the application. Before you upgrade to Lion you'll need to export that data in a format that that can be imported using whatever application you're planning to use once you make the switch. Most of the applications mentioned here can import QIF or CSV files, but you'll want to make sure that you can import the data before you upgrade. Fortunately all the applications mentioned here will work in both Lion and Snow Leopard, so you can make sure that everything works properly before you make the switch.
[Jeffery Battersby is a regular contributor to Macworld. Get more Jeff than you want on the Revenge of the Fanboy! podcast ( https://revengeofthefanboy.com) and at jeffbattersby.com.]
Editor's note: Updated 8/8/11 with information about Quicken Essentials.