If you're an old-school Apple fan, the last ten years have probably been exhilarating, but also maybe somewhat bewildering. As the ranks of Mac users have swelled, no longer can you find an easy camaraderie with a MacBook user you might see in an airport, or an iMac user in a coffee shop.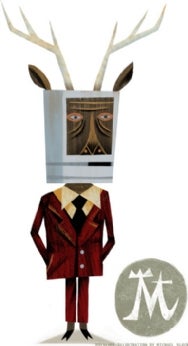 These new people don't even know the handshake! And some of them are really uncomfortable with the hugging. What's that all about? What happened to our country?
Still, all these years we've welcomed them because, well, Apple needed the money. But now the Macalope's wondering if there shouldn't be some sort of minimal entrance exam to keep the riffraff out.
How the Editor of Windows Magazine Became an Apple Fanboy (tip o' the antlers to TUAW's Chris Rawson)
Wait. Wait. Wait. "The Editor of Windows Magazine"? Mike Elgan? Mike Elgan now calls himself "an Apple fanboy" and writes for Cult of Mac?
…
Mike Elgan?
Mike Elgan?
Mike fricking Elgan?!
Are you sure we're talking about the same person?
Because, guys, we need to have a meeting about this. Being a tri-species beast himself, the Macalope is very inclusive but…
Mike Elgan?
Really?
The same Mike Elgan who said that the Zune "scares Apple to its core", which is both a terrible play on words and so bass ackwards it has gills? The same Mike Elgan who said that Apple was the new Microsoft because the iPod requires you to use iTunes? The same Mike Elgan who called Apple "arrogant" because it put a "blue screen of death" on the PC in OS X's networking window? The same Mike Elgan who said this week that Google+ makes Twitter obsolete?
That doesn't have anything to do with Apple, but it's still stupid. And still full of the same trite metaphors.
The exact same trite metaphors.
Here's Elgan today:
Google launched its Google+ social site about three weeks ago. The site's perfect storm of social features will sink Twitter.
And here's Elgan in 2006:
Microsoft is hatching a consumer media 'perfect storm'.

Apple fans assume iPod will face Zune in the market, mano a mano, like other media players. But that's not the case. Zune will be supported and promoted and will leverage the collective power of Windows XP, Windows Vista, Soapbox (Microsoft's new "YouTube killer") and the Xbox 360.
Vista. And Soapbox. He really wrote that.
Look, the Macalope's as open-minded as the next man-computer-beast. But is it too much to ask that we have some standards?
[Editors' Note: In addition to being a mythical beast, the Macalope is not an employee of Macworld. As a result, the Macalope is always free to criticize any media organization. Even ours.]