The video-capture capabilities of today's smartphones have put movie-making tools into the hands of masses. More often than not, though, the finished product seems more reminiscent of Roy Cohn than the Coen Brothers. NewBlue can't help you improve the content of what you shoot, but its free Vibop app can make your videos look a little more polished.
Make no mistake—Vibop is not a mobile editing tool like Apple's iMovie for iOS devices. Apart from adjusting the start and endpoints of your video clip, you can't really do any editing in Vibop at all. Rather, the app is aimed at improving the look of short video clips—Vibop limits you to 30 seconds worth of video—before you share them on YouTube or Facebook. In that sense, Vibop is cut from the same cloth as Apple's since-discontinued fifth-generation iPod nano. That music player featured a video camera for capturing quick images you could share with the world; Vibop scratches that same itch, adding a touch of professionalism to the mix.
That polish comes in three areas, the first of which happens when you select a video to use with Vibop. (You can import one from your Photos Library or shoot one from within the app itself.) Save the video, and the app analyzes and auto-stabilizes it. You won't mistake the finished product for something shot with a Steadicam, but it will smooth over many of the tremors that are an unfortunate side effect of shooting with a handheld phone.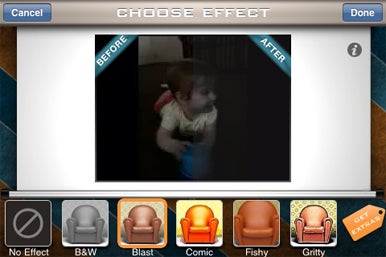 (It's just before you upload your clip that you're able to do the aforementioned trimming. Vibop offers a pair of sliders for adjusting when the video starts and stops, with a 30-second limit on video. The sliders aren't as precise as I would like to see, but it's as good a method as any for trimming down overly long clips. More important, the 1.01 update fixes some memory issues I ran into when testing the initial release of the app.)
Now that you've got a reasonably stabilized video, it's time to add a short intro clip—something along the lines of MGM's roaring lion or the 20th Century Fox fanfare. Vibop comes with a dozen preloaded intros that you can customize with text and images. (Again, you can either use a photo from your iPhone's library or shoot one from within the app itself.) The intros feature assorted effects like a photo lens or an old-time movie reel; if none of those strike your fancy, you can add more via the in-app purchase feature.
The customized intros are perhaps Vibop's most impressive feature. They draw heavily on the expertise of NewBlue, which specializes in video-editing effects, and they can make lend a professional sheen to even the most amateurish clips. If you spend any amount of time sharing short clips of videos you've shot with your iPhone or fourth-generation iPod touch, Vibop is worth a download for its intros alone.
I'm less impressed with the third way in which Vibop looks to polish up your videos—effects you can apply to your video clips. Vibop offers 12 effects by default; as with the intros, you can add others via in-app purchases. Included effects offer everything from a black-and-white look to a green-tinged view reminiscent of surveillance cameras.
The app provides low-res previews of each effect applied to your clip. And while it can take some time for those effects to render—between 20 to 30 seconds on my iPhone 3GS—it's impressive to see an app show a split-screen before-and-after view of how the effect will look on the finished clip.
The problem is the effects themselves just aren't that impressive. When I applied the Comic effect to give my video a look similar to what you see in those Charles Schwab commercials or when I paid up for the Feratu effect, which promises a grainy black-and-white image, I often thought the modified image looked worse than the original footage. Your mileage may vary, of course, particularly if you're using an iPhone 4—that 1.01 update also improves images for devices with the Retina display feature. In a world where everyone seems to want to Instagram the heck out of everything, Vibop's effects may offer some appeal. But for my tastes, they didn't bring much to the party. (Judge for yourself in this Feratu-influenced YouTube clip I prepared using Vibop.)
Still, the effects are only part of the show with Vibop. The people with whom you share videos will certainly appreciate the polished intros and cleaned-up footage that Vibop provides for free. (You can share Vibop-created videos on Facebook and YouTube; you can also tweet links to videos via Twitter, but the videos must be hosted on one of those other two services.) Hollywood might still overlook your cinematic talents, but friends and family will certainly give your improved videos two thumbs up.
[Philip Michaels is the executive editor of Macworld.com.]
Updated at 10:50 a.m. PT to clarify that the app is offered by NewBlue; Valenki is the name of the app's programmer.