Light, fleet, and beautiful to behold, the email app dubbed Sparrow ( Mac App Store link) lives up to its name. Free from extraneous features, Sparrow does nothing but IMAP-based email in an efficient and elegant fashion.
When I first launched Sparrow, I simply typed in my name and then provided my Gmail and Yahoo addresses and passwords. Sparrow sprang into action, loading the bulk of my thousands of Gmail messages within minutes, although it insisted on chugging away in the background for several more hours to gather all the rest (as the setup info warned me it would).
Once my mail was imported via IMAP, all my Gmail labels and Yahoo folders appeared in Sparrow, with labeled messages appropriately color-coded. You can create new labels in Sparrow, but you if you want to link them to any message-sorting rules, you'll have to open your Web browser and pay a visit to Gmail's settings.
I like Sparrow's crisp and lovely interface, though it took me a few moments to figure out the icons on the left side of the window. From Sparrow's blog, I learned that dragging that sidebar's right-hand edge farther to the right revealed more detailed information about each icon—and a full list of the selected account's labels or folders.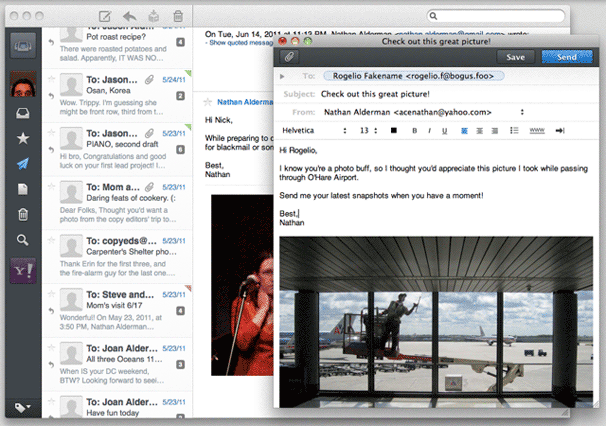 Messages appear only chronologically, with no other sorting options. When you select a message, a preview pane slides neatly out to the right, displaying threaded conversations and an easily summoned quick-reply field. In my testing, image-heavy HTML messages appeared in perfect shape.
You compose messages in a similarly no-frills new window. Sparrow offers only a dozen or so fonts for outgoing messages (alas, one of them is Comic Sans). You can drag-and-drop images and other attachments directly into messages—they appear inline if dragged to the body of your message, or as attached files if dragged to the bottom of the new-message window.
On a trackpad-equipped Mac, Sparrow also supports Multi-Touch gestures, including three-finger swipes to reveal or hide the message pane.
Using Sparrow, I ran into only rare and sporadic bugs. Deleting a message from my Inbox crashed the program on one occasion, but Sparrow worked fine afterward. Scrolling can also stutter slightly as the program loads new messages from the server; Sparrow can also scroll a bit farther than you told it to when the program is loading the full text of an expanded message in a conversation.
Much like Tweetie for Mac (now simply "Twitter for Mac"), Sparrow feels more like an iOS app than a Mac one—albeit a really nice iOS app. I'd also give it the edge over the more spartan Mailplane, a Gmail-only Mac email client that lacks both Sparrow's slick UI and its compatibility with IMAP email accounts (and, thus, IMAP-friendly webmail services) other than Gmail.
If you're looking for a desktop email client that offers the bulk of your favorite webmail service's features in a Mac OS X native app, with an interface that looks and feels a lot like Outlook or the new Apple Mail, Sparrow is an inexpensive, well-made candidate worth considering.
[Nathan Alderman is a writer, copy editor, and friend to the family Passeridae in Alexandria, Va.]