How fast is a MacBook Air when it's powered by an Intel Core i7 processor? Now that we've posted performance reports for the standard-configuration MacBook Airs, it was time to turn our attention to testing the optional, build-to-order (BTO) configurations of Apple's latest line of ultra-portable computers.
The brains of the mid-2011 MacBook Airs are ultra-low-voltage Intel Core i5 processors: in the 11-inch model it runs at 1.6GHz, and in the 13-inch model it's 1.7GHz. Macworld Lab ordered both an 11-inch and a 13-inch MacBook Air with faster 1.8GHz Core i7 processors. Upgrading the 11-inch 128GB model to use the Core i7 processor will cost you $150. Upgrading the 13-inch will set you back $100. So what does the extra money buy you in terms of performance? (Keep in mind that the stock Core i5 processors in the Airs already include Hyperthreading and Turbo Boost, two performance-enhancing features, so the difference between the original and upgraded processors is mostly slightly greater clock speed and 1MB more L3 cache.)
The 11-inch upgrade
As you might expect, the slower processor on the base 11-inch model provided more room for overall performance gains than the slightly faster 13-inch model. So here's what happens when you spend $150 to upgrade the 11-inch MacBook Air to the Core i7 processor: Our Cinebench CPU and file compression tests ran 21 percent faster, our iTunes encode went 19 percent faster, and our HandBrake test went 14 percent faster. (It's even more impressive when you compare these speeds to the 2010-model 11-inch Air with its 1.4GHz Core 2 Duo processor: The Core i7 11-inch was about 2.8 times as fast as that model in our HandBrake and Cinebench CPU tests, 2.5 times as fast in our iTunes encode, 2.4 times as fast in our 4GB Zip test and 2.2 times as fast in our Pages test.)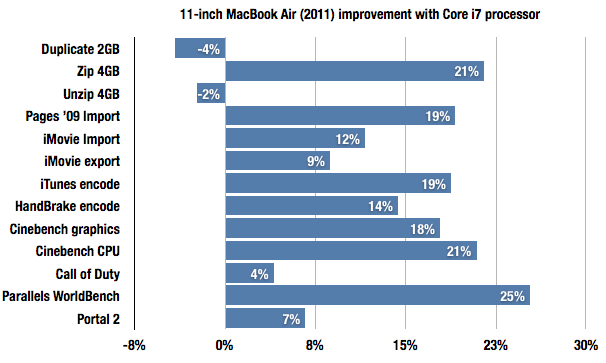 The 13-inch upgrade
The $100 Core i7 upgrade for the 13-inch model showed more modest gains when compared to the Core i5 stock model. Compressing a 4GB folder was seven percent faster, the Cinebench CPU test ran five percent faster, and our HandBrake and iMovie encoding tests were three percent faster. (Compared to last year's 1.86GHz Core 2 Duo 13-inch MacBook Air, the BTO 13-inch was just about twice as fast in our HandBrake test, Cinebench CPU tests were 2.1 times as fast, while iTunes encode was 1.9 times as fast on the new system and compressing a 4GB folder was 1.8 times faster.)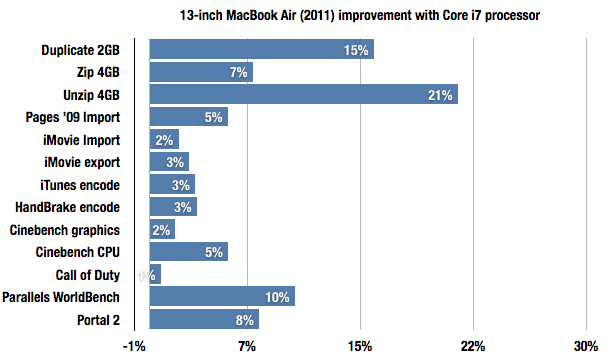 Upgrading from the Core i5 to the Core i7 definitely offers some speed improvements—but the improvements are pretty subtle.
Graphics update
In our earlier graphics testing, using Call of Duty 4, we found that results of the new MacBook Airs using the integrated Intel HD Graphics 3000 were slower than the Nvidia GeForce 320M found in the 2010 models. Cinebench's OpenGL test results also show the older chips to be faster, but not by as much.
We decided to investigate further with a newer game, so we installed Portal 2 on all of the systems. In these tests, the new systems and their Intel HD Graphics 3000 performed much better, with the BTO models edging past the stock 2011 models whose results were neck and neck with the 2010 Nvidia-powered Airs. The graphics on these systems are definitely not any improvement over their predecessors, but at least with a newer game such as Portal, they no longer lag behind as they did with our Call of Duty tests.
The raw numbers are below. Check back soon for Macworld's complete review of the 2011 MacBook Air models.
Benchmarks: BTO MacBook Airs (Mid 2011)
| | Duplicate 2GB folder | Zip 4GB folder | Unzip 4GB file | Pages '09 import Word doc |
| --- | --- | --- | --- | --- |
| 11-inch MacBook Air/1.8GHz Core i7 (BTO, Mid 2011) | 25 | 234 | 44 | 89 |
| 13-inch MacBook Air/1.8GHz Core i7 (BTO, Mid 2011) | 22 | 236 | 41 | 88 |
| 11-inch MacBook Air/1.6GHz Core i5 128GB (Mid 2011) | 24 | 298 | 43 | 110 |
| 13-inch MacBook Air/1.7GHz Core i5 256GB (Mid 2011) | 26 | 254 | 52 | 93 |
| 11-inch MacBook Air/1.4GHz Core 2 Duo (Mid 2010) | 33 | 553 | 66 | 196 |
| 13-inch MacBook Air/1.86GHz Core 2 Duo (Mid 2010) | 32 | 420 | 60 | 148 |
| 13-inch MacBook Pro/2.3GHz Core i5 (Early 2011) | 70 | 271 | 180 | 90 |
| 13-inch MacBook/2.4GHz Core 2 Duo (Mid 2010) | 82 | 337 | 177 | 120 |
Benchmarks: BTO MacBook Airs (Mid 2011)
| | Import movie archive to iMovie '09 | iMovie '09 export to iTunes 10 for iPhone | iTunes 10 AAC to MP3 encode | HandBrake 0.95 encode |
| --- | --- | --- | --- | --- |
| 11-inch MacBook Air/1.8GHz Core i7 (BTO, Mid 2011) | 99 | 105 | 91 | 239 |
| 13-inch MacBook Air/1.8GHz Core i7 (BTO, Mid 2011) | 98 | 107 | 93 | 238 |
| 11-inch MacBook Air/1.6GHz Core i5 128GB (Mid 2011) | 112 | 115 | 112 | 279 |
| 13-inch MacBook Air/1.7GHz Core i5 256GB (Mid 2011) | 100 | 110 | 96 | 246 |
| 11-inch MacBook Air/1.4GHz Core 2 Duo (Mid 2010) | 107 | 176 | 228 | 677 |
| 13-inch MacBook Air/1.86GHz Core 2 Duo (Mid 2010) | 91 | 146 | 173 | 474 |
| 13-inch MacBook Pro/2.3GHz Core i5 (Early 2011) | 116 | 88 | 100 | 210 |
| 13-inch MacBook/2.4GHz Core 2 Duo (Mid 2010) | 123 | 180 | 145 | 388 |
Benchmarks: BTO MacBook Airs (Mid 2011)
| | Cine- bench R11.5 graphics | Cine- bench R11.5 CPU | Call of Duty 4 frame- rate | Parallels World- Bench Mulitask | Portal 2 frame- rate |
| --- | --- | --- | --- | --- | --- |
| 11-inch MacBook Air/1.8GHz Core i7 (BTO, Mid 2011) | 11.9 | 167 | 25.9 | 331 | 60.9 |
| 13-inch MacBook Air/1.8GHz Core i7 (BTO, Mid 2011) | 11.4 | 175 | 25.9 | 325 | 60.1 |
| 11-inch MacBook Air/1.6GHz Core i5 128GB (Mid 2011) | 10.1 | 211 | 24.9 | 443 | 57.1 |
| 13-inch MacBook Air/1.7GHz Core i5 256GB (Mid 2011) | 11.2 | 185 | 25.7 | 361 | 55.9 |
| 11-inch MacBook Air/1.4GHz Core 2 Duo (Mid 2010) | 10.9 | 499 | 35.5 | 640 | 52.7 |
| 13-inch MacBook Air/1.86GHz Core 2 Duo (Mid 2010) | 13.0 | 367 | 38.7 | 475 | 57.4 |
| 13-inch MacBook Pro/2.3GHz Core i5 (Early 2011) | 12.5 | 161 | 27 | 328 | 61.8 |
| 13-inch MacBook/2.4GHz Core 2 Duo (Mid 2010) | 12.6 | 294 | 37.9 | 428 | 54.4 |
[James Galbraith is Macworld's lab director.]
Apple MacBook Air MC505LL/A Notebook