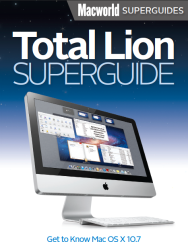 Since Lion's release, Macworld has published a deluge of Lion news, how-tos, and guides about Apple's newest version of Mac OS. Now, you can get all that information and more in one place with our Total Lion Superguide, available on the iBookstore, as a downloadable PDF/ePub bundle, on CD, and—coming soon—on the Kindle Store and as a printed book.
Total Lion is the latest in our "Total" Superguide series (following Total Tiger, Total Leopard, and Total Snow Leopard). It covers just about everything you need to know about OS X 10.7 in an information-packed 132-page book. We've taken the best of Macworld's coverage of Lion and distilled it into our Superguide: Read the entirety of Dan Frakes's six-part Lion Installation guide, along with contributions from Macworld staff members Lex Friedman, Dan Moren, Chris Breen, Roman Loyola, Jonathan Seff, and Jackie Dove.
In this book, we walk you through everything you need to know about Lion, starting with a comprehensive rundown of all the new features present in this version of Mac OS X. We help you install Lion, troubleshoot any installation woes, and learn how to set up a boot disc or drive.
Once you've got Lion up and running, discover how to navigate the new interface by using Multi-Touch gestures, Mission Control, and Launchpad; share files in AirDrop; and control other screens via Screen Sharing. Avoid ever having to manually save documents again with Lion's new Auto Save, Versions, and Resume features. Protect yourself from would-be data thieves by using Apple's FileVault 2 encryption functionality. And finally, find out about tons of new features, big and small, that Apple has added to the OS's included applications.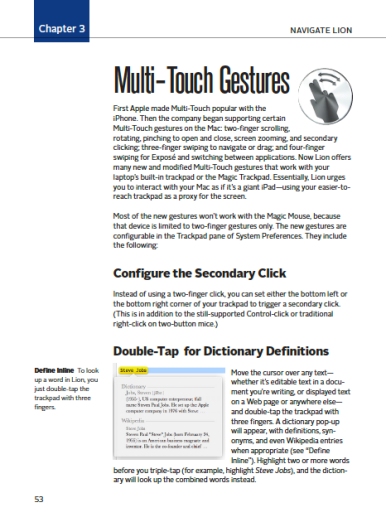 We want to make sure you can read the Total Lion Superguide wherever and whenever you'd like to; as such, we've put the book up for sale in a variety of formats—just choose the one that works best for you.
If you'd like to read the book immediately on your Mac, look no further than our downloadable PDF/ePub bundle, available for just $12.95 from our online Web store. Read the PDF on your computer or iOS device, or load the ePub version of our Superguide on any of your ePub-compatible gadgets.
If you'd rather bypass your Mac altogether, you can buy the Superguide directly on your iPhone, iPod touch, or iPad from Apple's iBookstore for $9.99.
Kindle and Kindle app users can download the book for $9.99.
Finally, if you'd like to give this book as a gift, you can have a high-resolution PDF/ePub bundle mailed to you on a CD-ROM for $14.95.
We'll also soon be featuring a printed Total Lion Superguide, available for $24.99.
Not convinced? If you want to see more before you commit, we've created a 23-page sample PDF that includes the book's complete table of contents and selected pages.
Be sure to check out the other books in our popular Superguide series: iPad 2, Digital Photography, iPhone and iPod Touch, Mac Troubleshooting, Switching to the Mac, and Mac Basics. And don't miss out on our iBookstore-exclusive title, 100 Things Every Mac User Should Know.