Developer Rogue Sheep unveiled its new Instaview app on Monday, jumping into an increasingly crowded marketplace of apps that let users view Instagram photos on their Mac desktops.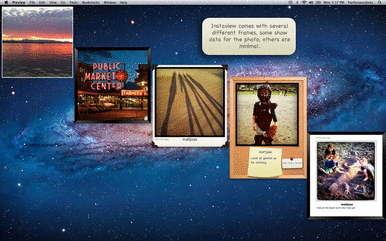 Instaview joins several other recent offerings—including Mobelux's $5 Carousel and Benedikt Terhechte's $2 InstaDesk apps—in displaying photos from the Instagram iPhone app directly on your computer. (The free Instagram app offers its own social network—as well as sharing to Facebook, Twitter, Flickr, and more—but doesn't have any way to easily view Instagram feeds on the iPad or Mac without the aid of third-party applications.)
Rogue Sheep says users can set up multiple windows on their desktop—each customizable with its own frame style—to view Instagram feeds, and even run them as a slideshow. Clicking on a photo gives users the options to view feedback, "like" the picture, follow the photographer on Instagram, or contribute a comment. An Instagram account is required to use the program.
Instaview costs $5, and is compatible with Macs running OS X 10.6 or later.