NBA Hotshot is a decent iPhone game undone by a rather significant bug.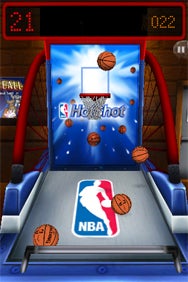 The iPhone and iPod touch offering from Freeverse brings the basketball shooting games found in arcades, taverns, and carnival midways to your iOS device, as part of the developer's successful Flick Sports series of apps. You use your finger to launch a lovingly detailed basketball toward a hoop in one of two modes—Classic, where you're trying to sink as many shots as possible in 40 seconds, and Three Strikes, where you're allowed only three misses as you try to rack up points.
It's fairly easy to pick up the mechanics of the game, though longer-range shots remain challenging enough to keep you coming back for more. This stands in stark contrast to the iPad version of NBA Hotshot where the game's physics are clearly off and even the most rudimentary bankshot is difficult to manage.
The problem with the iPhone version of NBA Hotshot is that it's gone neglected for 18 months as of this writing. That means more than just that the game lacks support for such features as Apple's Game Center; Apple has rolled out several updates to its iOS since Freeverse last deigned to update NBA Hotshot. As a result, the game crashes when you try to claim the prizes you unlock after successfully sinking a set number of shots. You can certainly play without claiming these prizes—virtual basketballs bearing the logos of NBA teams—but it greatly diminishes the enjoyment of the game.
There's plenty of potential in NBA Hotshot, particularly for basketball fans who'd like to bring their shooting skills to the iPhone or iPod touch. But thanks to the game's frequent crashing, you'd best wait until Freeverse takes an interest in updating NBA Hotshot before giving it a try.
[Philip Michaels is the executive editor of Macworld.com.]