The number of apps in the App Store remains a key part of Apple's marketing push for its iOS devices, and for good reason: It succinctly illustrates just how vibrant the platform for the iPhone, iPad, and iPod touch is. By reminding everyone that there are 425,000 apps available for download (at least as of this writing), Apple highlights the tremendous interest among developers in building iOS apps while giving shoppers who might be considering Android or webOS devices another reason to grab an iPhone or iPad.
There's a flipside to this story, however. Certainly, plenty of apps have enjoyed a tremendous amount of success on the App Store; an even greater number have carved out their own special niche among users. But there's a subset of apps that are released with the kind of flaws you'd expect in a 1.0 product, only to be seemingly forgotten by their developers. And yet, these flawed apps remain available for download, cluttering up the App Store's virtual aisles and providing a lackluster experience for the iOS device owners unfortunate enough to download these neglected programs.
NBA Hotshot HD is a case in point. I came across the app when assembling an App Guide collection featuring rec room-style games for the iPad. I figured I'd give it a try. After all, the arcade-style basketball game comes from Freeverse, not only a well-established developer but one that's enjoyed some measure of success with its Flick Sports lineup of games like Flick Bowling and Flick Fishing. What could go wrong?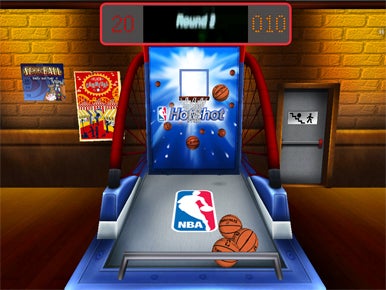 Quite a bit, actually. NBA Hotshot HD mimics the game you'd find at your local arcade, tavern, or carnival midway where you try to heave basketballs through a waiting hoop. The iPad game features two modes—Classic, in which you have 40 seconds to rack up as many points as possible (with the hoop scooting back to a longer distance about halfway through the countdown), and Three Strikes, where the game ends after you miss three shots. This is a fairly straightforward concept in theory that clanks off the rim in practice. The physics are badly off in NBA Hotshot HD—when you touch a ball with your fingertip to grab it, you wind up punching it forward more often than not. Flicking the ball toward the hoop also results in a frightening number of airballs, particularly for long-range shots; because the game's layout blocks you from seeing the arc of your shot, it's hard to make adjustments to your flicking/shooting motion.
Those flaws are problematic enough, but NBA Hotshot HD also throws crashes into the mix. As you progress through the game, you rack up prizes—basketballs with NBA and WNBA logos, essentially. But tap a button to claim your prize, and the game will frequently crash; crashes also occur when you try to jump between the Classic and Three Strikes modes. Frankly, the game is a bit of a mess.
Closer examination of the NBA Hotshot HD's App Store page offers a good clue as to where the problem lies—the app was last updated on April 1, 2010. Some users will recognize that date as two days before the original iPad's release, making NBA Hotshot HD one of the first iPad-optimized apps to hit the App Store. Remember, in those early days, many developers built their iPad apps without the luxury of having a physical tablet on hand for testing. Many developers went back and fine-tuned those initial releases; in the case of NBA Hotshot HD, it's quite clear that process didn't happen. As for the crashes, Apple has released a number of iOS updates since April 2010; quite clearly, one of those updates introduced some instability to NBA Hotshot HD that Freeverse hasn't bothered to resolve.
(Some further support for my theory: The iPhone version of NBA Hotshot features a much better physics engine than the iPad release. Yet, it suffers from the same crashing issue. Clearly, the iPhone game—last updated in January 2010—benefitted from having actual devices on hand for testing, though it hasn't been updated to keep pace with Apple's subsequent iOS updates.)
I don't mean to sound like I'm picking on Freeverse. Poke around the App Store long enough, and you can probably find other examples of apps released to great initial fanfare only to be forgotten by their developers. The point remains, however: NBA Hotshot HD is a hopelessly out-of-date app, which Freeverse should either bring in line with the latest version of iOS or yank from the App Store entirely so that users don't inadvertently download it, expecting a polished product.
Apple bears some culpability here, too. Say what you will about the company's app approval policies, but the benefits are clear—in exchange for ceding some control to Apple, iOS users are promised a fairly predictable experience when it comes to third-party apps. But that holds true even for apps like NBA Hotshot HD that are horribly out-of-date with the latest version of iOS—if they remain available for download, they implicitly carry Apple's seal of approval, whether they deserve it or not. In a brick-and-mortar retail store, a product this out of step would be swept off the shelves to make room for more current offerings; on the App Store, flawed products can live on in perpetuity. It's a curation problem that Apple will need to get a hold of sooner rather than later, especially if it wants to keep pointing to the breadth and depth of the App Store as one of the iOS platform's strengths.
[Philip Michaels is the executive editor of Macworld.com.]