OmmWriter for the iPad is a striking word processor. If you're not familiar with the Mac version, you would perhaps even consider it radical. It differs so much from other apps primarily to facilitate writing that while it can be described, it really has to be experienced to be appreciated.
While OmmWriter for the iPad is an elegant, beautifully designed app, it's not for everyone. The Herraiz Soto & Co. app provides a minimalist, Zen-like atmosphere for wordsmiths. It's got ambiance and flair, providing users a choice between seven subdued visual backgrounds and eight ambient music soundtracks. (On its website, the developer credits the music composer and photographer.)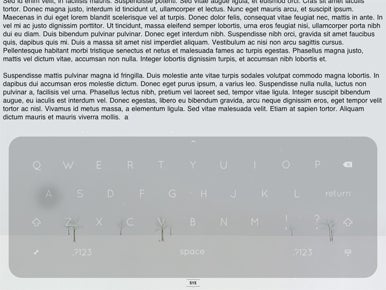 The idea is to provide a soothing slate and eliminate distractions, so there are only four fonts to choose from, four font sizes, and only "normal" font style—no bold or italics, for example.
For this reason no description of OmmWriter for the iPad would be complete without some warming about what you can't do with it. Among the common and major word-processor features notably absent are:
The ability to have more than one document open at a time;
Spellchecking;
Document formatting, beyond tabs and returns;
Footnotes, headers and footers, etc.
If you're used to using Microsoft Word, or even Apple's relatively svelte Pages, the list of what's "missing" could go on and on, but that's the point: OmmWriter for the iPad, like its Mac counterpart, is designed specifically for when you want to focus on writing, and only writing, and perhaps even convince yourself you're elsewhere.
For example, I'm writing this review on the Mac version of OmmWriter, which is very similar to its iPad counterpart. Outside the temperature's hovering in the low 90s, but my computer screen is filled with a snowy, cloudy landscape interrupted by only a handful of scattered, barren trees. In combination with the gentle background music, also provided by the program, the usual temptations—checking email or the latest news on the Web, fiddling around with iTunes, and even writing-related "distractions" like looking up alternative terms in a thesaurus—have been absent. And as a result, I've been able to write much more quickly, and with more focus, than usual.
But OmmWriter's missing functions make it impractical, if not impossible, to complete even relatively straightforward writing tasks such as finishing this review in a form suitable for passing on to my editor. I wrote different parts of the review on my Mac and my iPad, using several different word processors, but OmmWriter for the iPad does not enable you to import documents created by other apps. There is a folder of documents created by the app itself, but no way to access documents elsewhere on your iPad, nor documents stored on other computers on your home network or with DropBox or other cloud services.
(A blog post on the developer's website, dated June 1, 2011—nearly two months before this review was written—says "the one feature we will be sure to include is better file management. Currently one of your top requests is support for DropBox. We are currently looking into it as well as other alternatives and will get back to you once we have made a decision on the winning solution.")
Also, you can only export a document by emailing it as a text or PDF attachment, or via iTunes, if you connect your iPad to your Mac or PC. (You can also cut and paste the entire text into another app, but that's not exactly a feature.)
OmmWriter also provides only a tiny amount of help (describing options for saving, renaming, deleting, and duplicating files). This means that, aside from a few hints offered on the developer's website, you learn the app by trial and error, which may further the minimalism vibe, but also amplifies the frustration vibe.
There are also many small annoyances. such as the lack of support for standard iOS keyboard shortcuts like being able to access a single apostrophe by tapping and holding the !/, key or an em-dash by holding down the en-dash key. It's not clear how eliminating such shortcuts makes anything easier or simpler. However, when you tap and hold down the vowel keys for more than a second or so, OmmWriter provides many different options for accented versions of those letters.
It's important to note that I like OmmWriter for the iPad, especially in theory. It achieves the main goal of creating a placid, relaxing writing environment that is adequately customizable in terms of ambience. But until the app provides some of the missing basics, like file management, and also some "extras" like support for keyboard shortcuts, and perhaps even find-and-replace, it's difficult to recommend the app as a primary writing tool. It is, however, an intriguing mobile offering with a refreshing feel.
[Jeff Merron is a freelance writer and editor living in North Carolina.]