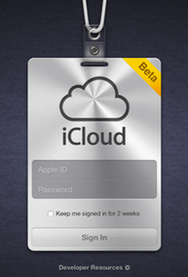 Apple on Monday unveiled more details about its forthcoming iCloud syncing service, including details on pricing. Steve Jobs had previously declared that Apple device users would get 5GB of iCloud storage for free; you can add an additional 10GB (those five free gigabytes plus ten more, for a total of 15GB) for $20 per year, 25GB for $40 per year, or 55GB for $100 per year.
In comparison, cloud-storage service Dropbox offers 2GB of storage for free, 50GB for $120 per year and 100GB for $240 per year.
Also on Monday, Apple launched a developer beta of iCloud.com, which gives registered developers an early preview of the company's iOS-like Web apps for iCloud-synced email, contacts, calendars, iWork, and Find My iPhone.
Apple still hasn't said precisely when iCloud will become available to the masses, but the service is strongly tied to iOS 5, which the company promises will arrive "this fall."
Earlier Monday, Apple granted iTunes Store-purchased TV shows the same iTunes in the Cloud functionality that the company already bequeathed to iTunes Store-purchased music.