If you've ever taken a photo outside on a bright day, only to find part of the photo way too dark and part of it way too light, you've stumbled upon one of the problems inherent with digital photography—a single exposure can only contain a limited dynamic range.
High Dynamic Range (HDR) photography creates an image that is not possible with a single shot. The effect is achieved by merging different photos of an identical frame taken with different exposures–dark underexposures, bright overexposures, and medium exposures—and using only the properly exposed parts of each photo. With HDR, you can keep the details of clouds on a sunny day while saving a shaded part of the scene in the foreground that may normally be underexposed.
Traditionally, HDR photography required expensive applications like Photoshop ($699) or Photomatix Pro ($99). Last year, the concept of HDR photos became more mainstream when Apple added it to the camera app in iOS 4.1. Now, users searching the Mac App Store store for HDR apps are met with a wide range of options, both in price and features.
I took a look at five apps to see how price, features, and results compared. For consistency, the same three raw files were used to test each app.
Light Compressor
Don't be fooled by the price tag on Tai Shimzu's Light Compressor. Available in the Mac App Store for $1, Light Compressor is a basic HDR app that yields solid results. With very simple controls, this app allows you to quickly drag three image files to the main window, and make tone mapping and curves adjustments to the combined image. The dynamic range of a photograph is much wider than what can be accurately displayed on a computer screen, and tone mapping—a core concept in HDR photography—reduces the overall range while maintaining as much of the contrast as possible. There are three sliders under the tone mapping controls that allow you to adjust strength, radius, and saturation. Below this, there is a familiar Photoshop-style curves adjustment tool, which allows for multiple adjustment points by clicking the plus sign at the top. Light Compressor's default tone mapping settings seems overly strong, but yields pleasing results when lowered slightly. The settings are not refreshed when you load a new set of images, so adjust accordingly.
Bottom Line: A good starting point for HDR on the Mac. It could end up being all you need.
Tai Shimzu; $1
HDR Darkroom
Everimaging's HDR Darkroom easily combines multiple image files to create an HDR photo. The app's strength lies in the three tone mapping engines to adjust your image after the files are loaded—Local Tone Balancer, Local Tone Enhancer, and Fast Tone Compressor. After the selection is made, the slider controls in the Tone Mapping Parameters panel adjusts automatically. Local Tone Balancer can be used to balance highlights and shadow detail in small areas of the photo via the Strength and Local Lighting sliders. The Local Tone Enhancer engine is for targeting the shadow details specifically. The Fill Light slider is the key to this engine and will reduce the overall contrast of the image, and lighten some darker areas of the photo. This engine seemed to quickly wash out the overall image. The final engine is the Fast Tone Compressor, which apples a uniform adjustment to all areas of the photo and allows for the quickest adjustments of all the tone mapping engines. In some case this may be all that's needed, but there is more fine turning available with the other two engines. Each of the engines also allows for custom settings to be saved for quick future access. Overall, HDR Darkroom's user interface is relatively intuitive but could use a little more polish around the edges to make the workflow more clear.
Bottom Line: The UI could use some clean up, but good results are possible from this mid-priced app.
Everimaging Ltd; $80 ($10 on sale on the App Store as of 9/22/2011)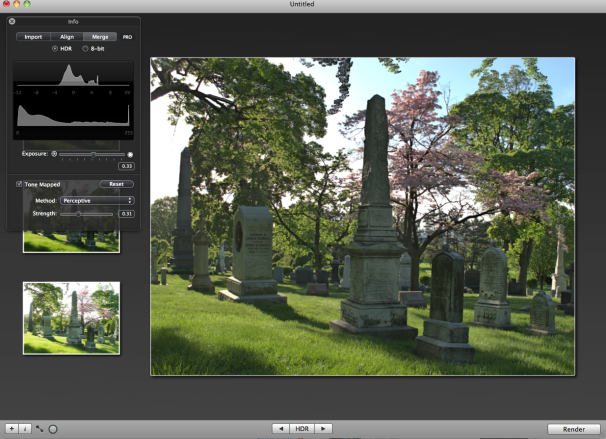 Hydra Express
If you're comfortable with iPhoto, you will feel at home in Creaceed's Hydra. From the app's icon to the user interface, Hydra feels very much like a native Mac app. Creaceed only produces products for OS X and iOS, and it show in the little details. When the app is launched, a window opens and prompts you to drag and drop the images you would like to use to create the HDR photo. These images then get displayed in a large preview window, where you can see your adjustments made.
The editing controls are simple and straightforward. Once you have selected the Merge pane on the Inspector window, a histogram appears with an exposure slider below it to set the overall exposure for the HDR image. The Tone Mapped editing pane has three tone-mapping methods: Compression, Local Adaption, and Perceptive (which seemed to yield the best results, to my eye). Each method offers a different slider for adjustments, and the changes can be seen in real time in the large preview window. When you're happy with the result, click the Render button and choose your preferred file output type. The completed image will be rendered and saved. Hydra allows you to set the preview quality in the app's preferences. Higher quality previews take longer to render. When I was editing, minor adjustments resulted in bigger visual changes than other apps. So take your time, move those sliders carefully, and you'll be pleased with the outcome.
Bottom Line: The nicest user interface of the bunch with a very familiar feel. Take your time with the controls and you'll get nice results.
Creaceed; $50
HDR Express
HDR Express uses a series of presets for tone map and style settings, giving it an iOS feel in certain areas. In HDR Express, the Tone Map presets are represented along the bottom of the main window by thumbnails that can be clicked on to make adjustments. Any preset can be adjusted on the right side of the window with slider controls that change brightness, highlights, shadows, black point, contrast, and saturation. Any custom changes that are made can be saved as presets. The tone map controls create the actual HDR characteristics of the image and, after those are adjusted, you can add more filters to the HDR photo. The Styles filters range from more standard Vivid and Black & White, to dramatic looks like Grunge and Retina Burn, which go way beyond adjusting the dynamic range of the image, to adding cartoonish and surreal effects. These styles are optional, customizable, and can be skipped if only tone mapping is desired. Overall, HDR Express is an app that uses HDR as a starting point for a more full featured image editor.
Bottom Line: On the high end of the price scale, but if you spend a lot of time taking HDR photos, this app produced some of the best results.
Unified Color Technologies; $100
Bracketeer
Instead of relying on the the more common tone-mapping method to create HDR photos, Pangea Software's Bracketeer is a GUI for the open source application Enfuse, which needs to be run from the command line. Enfusing is similar in concept to tone-mapping, but aims to eliminate some of the surreal looks that are often associated with HDR photos. Bracketeer consists of three windows: Settings, Source Files, and Preview. Three or more files can be dragged to the Source Files window, and after the Settings window is adjusted, the results are shown in the Preview window. When the desired look is achieved, click the Enfuse It! button in the Preview window to create the final TIFF file. If working with the command line with the is not for you, Bracketeer provides a slightly more familiar interface. The settings in Bracketeer still mirror the open source features, and are not particularly layman-friendly. Instead of more common choices like strength and saturation, the Enfuse settings allow you to adjust the Mu and Sigma of the gaussiane exposure. This allows you to adjust the overall exposure, or simply modify it. Bracketeer is able to produce some very nice results, but is not the place to start for someone new to HDR photography.
Bottom Line: Solid results, but a not as user-friendly as many other apps.
Pangea Software ; $20
The Mac app store contains a wide and growing range of HDR apps for OS X. Choosing one depends not only on what your goals and level of interest in HDR photography are, but how much you'd like to spend. Light Compressor is a solid start for a small investment. HDR Darkroom isn't going to strain your wallet too much and will yield good results, but it is missing some of the polish of many Mac apps. Hydra has a great user interface, but takes a little more finessing. HDR Express is at the top end of the price spectrum and it yields results that match.
[Macworld contributor Beau Colburn lives in Brooklyn, NY and posts iPhone photos on his site Snap different.]
Note: When you purchase something after clicking links in our articles, we may earn a small commission. Read our affiliate link policy for more details.