While Skype has long been available on the iPhone, iPad users have had to make do with using the iPhone version in super-sized mode. On Tuesday, though, Skype at long last released an iPad-native version of its VoIP client in the App Store.
The release hasn't been without its hiccups, however. In late June, a video of the program's interface surfaced online, leading many to believe that a release was imminent, but weeks passed without any further development. And late on Monday, the iPad app showed up on the App Store prematurely before Skype removed it.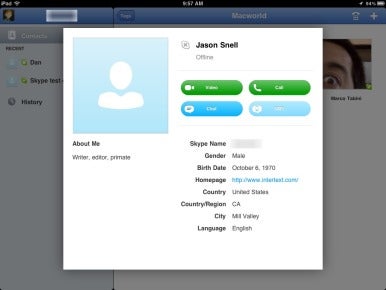 Now that the app's finally here, though, what can you expect? Well, I hope you like Skype's new desktop interface, because the iPad app bears more than a passing resemblance to Skype 5 for Mac. The app presents a thumbnail grid of your Skype contacts; tap on any of them to bring up a look at their profile, along with options for voice calling, video calling, chat, and—if it's an actual phone number—SMS. Skype allows you to access your contacts via "Tags," (think groups) but doesn't allow you to actually assign contacts into those categories on the iPad app—you need to use the desktop program for that. You can also add new contacts, or even just dial any phone number you like via a standard keypad.
The app lets you make calls over Wi-Fi or 3G though, of course, you'll need a Skype account as well as some credit if you want to make calls to actual phones. Video calls let you switch back and forth between the iPad 2's front and rear cameras. If you're using an original iPad, you'll obviously only be able to receive video. And there's support for instant messaging via Skype, including emoticons.
While the Skype app may not be everything users hoped and dreamed for, it's a welcome arrival for iPad users who want to take advantage of the video capabilities of their devices without having to resort to the large pixelated nature of the iPhone app.
Skype for iPad is free and requires iOS 4.0 or later. It is not a universal app, meaning that if you already have the iPhone version on your iPad, you'll need to download this one separately.