At first glance, Taptu—a free news-reading app for the iPhone and iPad—appears to be too much: too busy, too frenetic, too everything. A single glance at the app's homepage displays 56 separate visual elements, all crammed together. The iPad, in particular, is renowned for its expansive visual real estate, which allows apps to breathe. How is it possible for Taptu to make a tablet app that feels so claustrophobic?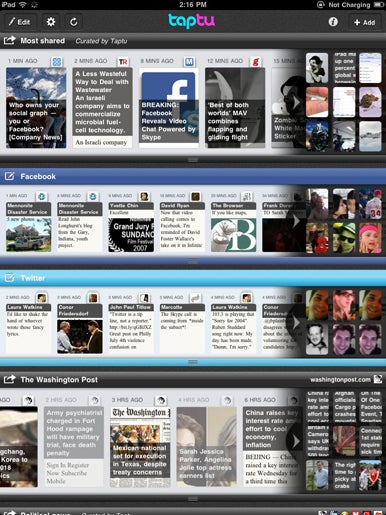 Shhh. Calm down. Relax. The homepage is not your landing spot, it's your entry point. Click on any line—your Facebook or Twitter feed, or any one of a range of news and blog sources that you choose and organize—and everything begins to make sense. Instead of a visual assault, you're given a single story to view. (You can see headlines from additional stories in the feed along the top of the page on the iPad.) You can flip through the stories by swiping the page. It's not quite as leisurely as Flipboard—you can power through your feeds fairly quickly in this fashion—but it's not quite the explosion of information you first encounter, either.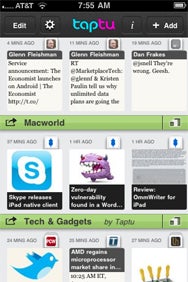 Taptu lets you import individual feeds, and you can group them together, with a little bit of editing. (You drag feeds on top of one another to create what Taptu calls a "mixed stream." You can then edit the name of the stream and even add a splash of color to help differentiate it on Taptu's crowded home screen.) It requires some effort, but it's worth it; without combining feeds into groups, I felt slowed down by Taptu's visually cluttered home page.
If you can work around that clutter, however, Taptu is an excellent way to bring all your social networks, news feeds, blog posts, and other information into a single app.
[Joel Mathis is a freelance journalist and political columnist for Scripps Howard News Service. He lives in Philadelphia.]