At a Glance
Expert's Rating
Pros
240-fps high-speed shooting mode
Good low-light performance
Versatile physical design
Cons
Touchscreen can be unresponsive
Digital zoom only
Fixed battery
Our Verdict
If you've heard of the Casio Tryx ($250), it's most likely due to the camera's innovative, twistable design. The Tryx was one of the most intriguing announcements of CES 2011, with a shape-shifting body that can be used as a tripod, hung on a hook, adjusted to allow for a camcorder-like grip, and tilted to make shooting overhead and low-angle shots much easier.
And while the 12-megapixel Tryx's physical design is certainly its most noticeable drawing point, it also has more-traditional specs to compete with the vast majority of cameras in its price range. Chief among those are a super-high-speed video capture mode, an extremely wide-angle 21mm lens, 1080p video capture at 30 frames per second, and some cool in-camera tricks for capturing hands-free shots and artistic-looking stills.
Unfortunately, for all that aesthetic innovation and in-camera trickery, the Tryx stumbles a bit when you're using it as a plain old camera. Despite some excellent low-light features and creative scene modes, the Tryx has frustrating usability issues because of its often-unresponsive touchscreen. When you're using it in its folded-up configuration, the awkward lens placement means your finger will work its way into many shots. But if you can get beyond its finicky touchscreen interface and twist it into a shape that suits you comfortably, it's a camera that performs well.
Hardware and design
The Tryx's innovative form factor is as durable as it is unique. A gadget designed to repeatedly twist this way and that should be solidly-built, and the Casio Tryx is certainly sturdy enough. Its outer frame is built of a durable, seemingly snap-proof plastic, while the center part of the camera body, made of metal, feels about as solid as your average touchscreen smartphone.
The outer frame of the camera rotates a full 360 degrees on a swivel, locking in place at 90-degree positions. Because of that unique trait, you can use the frame as a traditional camcorder-like grip for left-handed or right-handed shooting, a "do not disturb sign"-like hanger, or a prop-up tripod. (The Tryx doesn't have a standard tripod mount, so you're limited to using the frame as a kickstand.)
The frame isn't the only thing that swivels, either. The Tryx's touchscreen rotates 270 degrees and locks at 90-degree slots as well, making it the ultimate weapon for framing over-the-crowd shots, ground-level shots, and self-portraits. Quite simply, no camera has a body more versatile than the Casio Tryx's. At just 0.59 inches deep, 2.32 inches tall, and 4.9 inches wide, it's also just as pocketable as your average touchscreen smartphone.
Apart from its touchscreen, the Tryx's shortcomings begin with its zoom capabilities. It has digital zoom only, which tops out at 4X for higher-resolution photos; if you're willing to dip down to VGA resolution (read: very, very, very low resolution), you can crank the digital zoom up to about 16X. The good news: with a 21mm wide-angle lens in 35mm equivalent, you won't need to huddle everyone in for those group shots, as it's one of the widest-angle lenses we've seen on a point-and-shoot camera.
Although the Tryx offers no optical or mechanical image stabilization, it does have a dedicated mode that applies digital stabilization, and it works much better than most digital stabilization systems thanks to the Tryx's fast-action shutter. You can fire the Tryx's shutter in one of three ways: by pressing a physical button on the side of its 3-inch touchscreen, by touching the touchscreen, or by setting the camera to "Motion Shutter," which snaps three shots when it detects movement in front of the lens.
The physical shutter button and the motion-activated setting often work better than the touchscreen, which feels like a relic from a bygone era: It's a resistive rather than a capacitive touchscreen—the kind found on most modern smartphones—which means you must press it harder than most devices these days require. What's more, the touchscreen sometimes needs a couple of presses to register a selection, and it often registers "scrolling" gestures as menu selections (or nothing at all). Because the Tryx has only two physical buttons—the power button and the shutter button—the frustrations presented by this touchscreen interface are significant.
Shooting modes and features
As you might expect, the Tryx's feature set is geared more towards in-camera trickery than traditional manual controls. Besides two Auto modes, the Tryx offers a handful of creative shooting modes that apply different artistic filters and special effects to your shots. A few of these creative shooting options are tucked into the camera's "Best Shot" menu of scene modes, and a few are directly accessible from the Tryx's main menu screen.
In addition to an exposure-bracketing HDR mode that shoots three shots at different exposure levels and combines them in-camera for a high-dynamic-range effect, the Tryx also has an HDR Art mode that applies a painting-like filter to your shots. You can set the "intensity" of the HDR art filter to increase or decrease the painting-like effects applied to your shot.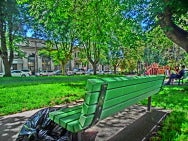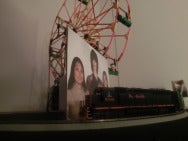 Employing the same fast-shutter bracketing technique, the Tryx also does a good job in its dedicated low-light mode, which is called High Speed Night Scene. While color accuracy and image sharpness suffer a bit in this dedicated low-light mode, it certainly does a better job at creating a more accurate-looking scene than jacking up the ISO on your average point-and-shoot camera. Because the Tryx's LED flash is a weak spot for still shots (more on that in the "Performance, Image Quality, and Video Quality" section, below), we'd recommend using that High Speed Night Scene mode for low-light photos.
Similar to Sony's groundbreaking Sweep Panorama mode, which now has its fair share of imitators in the world of digital cameras, the Tryx also offers a Slide Panorama mode that stitches together an instant panoramic shot after you pan the camera from side to side—and the mode lets you sweep the camera a full 360 degrees.
Despite the lack of optical image stabilization, the High-Speed Shake Reduction scene mode generally does a good job of keeping shots sharp. The Tryx also packs a Motion Shutter mode, an interesting, motion-activated version of a self-timer feature. In Motion Shutter mode, the camera takes three pictures in succession after it senses movement in front of the lens. This mode is enhanced significantly by the Tryx's unique physical design, as you can adjust the camera's LCD screen to face you in order to frame the shot, and then use the camera's swiveling frame as a kickstand-like tripod.
In the camera's high-definition movie mode, the Tryx captures good-looking 1080p video at 30 frames per second. Like Casio's recent high-speed Exilim cameras, the Tryx also packs a high-speed shooting mode that captures video at up to 240 frames per second at a reduced 430-by-320-pixel resolution. If you can accept lower-resolution footage, it's a fun mode to play around with in order to capture fast action or create super-slow-motion scenes.
Performance, image quality, and video quality
In our lab's subjective tests for image and video quality, the Casio Tryx posted an overall score of Good for image and video quality.
Like many recent cameras, the Tryx gravitates toward oversaturated colors and slightly overexposed images—photos look very punchy and colorful at the expense of true-to-life color reproduction. Image sharpness was a strong suit, as the Tryx earned a score of Very Good in our sharpness tests, while the camera earned scores of Good for exposure quality, color accuracy, and lack of distortion.
Click any of the thumbnail images below to see the full-size test images used for our subjective evaluations.
In the realm of video, the Tryx captures good-looking video in bright lighting conditions, but it isn't the best low-light shooter. In our lab's subjective video testing, it earned an overall video rating of Good, but that rating was skewed heavily toward its performance in our bright-light testing. Video quality is smooth and colorful in good lighting conditions; however, the Tryx couldn't brighten up our darkly lit test footage enough to let us see what was going on. It should be noted that the Tryx has a built-in LED lamp to aid with low-light footage, but we conducted our low-light video test with the LED lamp turned off.
Here are the sample clips we shot for our subjective video tests. Select "1080p" from the drop-down menu in each player to view the highest-quality footage.
The Tryx's battery life comes up short, with a CIPA rating of 220 shots per charge of its unremovable rechargeable battery. That translates to a our lab's battery-life rating of Fair, and it's a shame that the battery isn't removable or user-replacable given that lackluster rating.
Macworld buying advice
The Tryx is a category-busting device—equal parts camera, pocket camcorder, and Voltron Starshooter—and it performs most of its tasks surprisingly well. However, it does have its fair share of drawbacks: It has no optical zoom at all, most camera controls are delegated to the Tryx's problematic touchscreen, and unless you hold it camcorder-style, it makes you feel more like you're shooting with a cellphone than with a dedicated camera. It's certainly the most versatile imaging device we've ever reviewed in terms of physical adjustments, but its transformative ways are somewhat mission-critical: The Tryx works best when you take advantage of its twisting and turning frame.