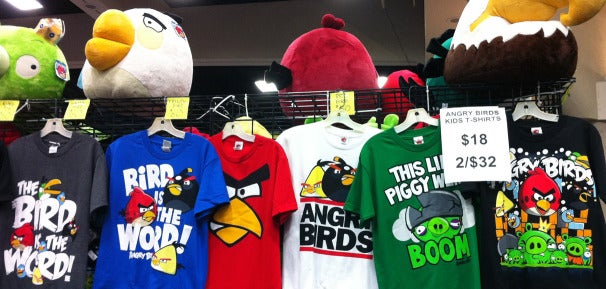 Last week I emptied my Comic-Con notebook with thoughts on the various digital comics panels I attended, and how the iPad and digital comics in general have affected the comics industry. But there was one more trend I noticed at Comic-Con that I wanted to mention before it finally fades out of my rear-view mirror, and it has to do with iOS apps.
Being on the floor of Comic-Con is like being in the middle of a pop-culture blender. Every conceivable bit of intellectual property from every company in the entertainment industry is on display. Yes, of course there's Spider-Man and Batman and the zombies from The Walking Dead. But look! Over there, it's LL Cool J, star of the CBS crime procedural NCIS: Los Angeles. Why is Mr. J signing autographs at Comic-Con? No idea! But if it's part of the entertainment world, it's at Comic-Con.
Which is why I was taken by the number of times I spotted stuff at Comic-Con that had previously been relegated to the home screen of my iPhone and iPad.
You knew Angry Birds was going to be there. And boy, was it there. In a sort of revenge for not having any stuffed toys ready for Christmas 2010, Comic-Con's halls were absolutely plastered with Angry Birds plushies this year. Suffice it to say, if you want a mean green pig or a pointy-faced yellow bird in your stocking this year, you will not be disappointed.
More interesting were the cross-overs between the iOS games market and the comics industry itself. I stopped by the Ape Entertainment booth when I realized that Dave Castelnuovo and Allan Dye, the creators of the popular iOS game Pocket God were standing there. Why in the world was Pocket God at Comic-Con? (This was before I saw LL Cool J, mind you.)
It turns out that Bolt Creative's Pocket God is not just an iPhone game that my kids and millions of other people are obsessed with. It's now a multimedia entertainment property. There have been five issues in Ape Entertainment's Pocket God comics series, available in both print and in digital form as an iOS app. Castelnuovo (who Philip Michaels interviewed on a recent Macworld Podcast) said the company distributed 150,000 copies of the first issue, and subsequent issues have sold a total of 150,000 copies more.
Three hundred thousand comics? That's a really big number, and it speaks to the growing power of the iOS game market to create a whole new generation of characters along the lines of Nintendo's Mario family.
But the pygmies of Pocket God aren't the only characters going from app to comics. There's Om Nom, the protagonist of Cut the Rope. There's a Cut the Rope comic coming, from the same people who produced the Pocket God comic.
And then there's SkyVu's Battle Bears, a first-person shooter featuring cute teddy bears and maximum stuffed carnage. Not only were there cute Battle Bears plush animals on the show floor, but—you guessed it—there's also a Battle Bears comic.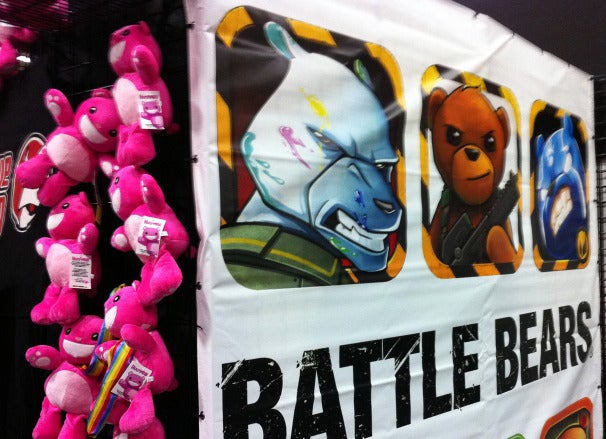 No word on if we'll soon be seeing a Super Stickman Golf comic—though even LL Cool J would agree that such a comic would be totally awesome—but at this point, nothing would surprise me.
[Jason Snell is Macworld's Editorial Director.]