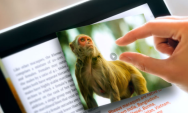 The digital book frontier has lost a pioneering company with Facebook's acquisition of Push Pop Press. The San Francisco-based start-up, which launched in February this year, aimed to "re-imagine the book"; its first product was the iOS app of Al Gore's book, Our Choice. Terms of the deal have not been disclosed.
Push Pop was co-founded by two former Apple employees, designer Mike Matas and engineer Kimon Tsinteris. Matas is well-known as the designer behind popular Mac app Delicious Library; he later went to work for Apple on the iPad's Photos and Maps apps. The two, and their team, will now be bringing their talents to Facebook.
Much buzz surrounded Push Pop's launch earlier this year, and Our Choice won this year's Apple Design Award in the iPad category.
But Facebook has no intentions of publishing e-books. According to Push Pop, it will no longer be working on its publishing platform or releasing any new ebooks. Instead, the company's technology and talent will be integrated into the social-networking giant, while its own platform gets shuttered.
Push Pop Press has stated that Gore's Our Choice app will remain available for purchase. You can get a universal copy for iOS devices for $5; all profits will be donated to The Climate Reality Project.