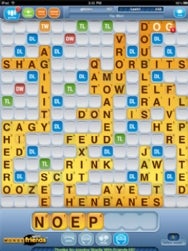 Good news, non-smartphone owners! Soon, you too will get sucked into the fun, addicting, and deceptively educational Words With Friends phenomenon.
In a little while, you can start playing—and hopefully winning—games against your friends, entirely on Facebook. Your games will also be accessible from both Facebook and the iOS or Android version of the game, so you can start a game on your phone and finish it on your laptop. Gameplay on the Facebook version of Words With Friends will include Facebook notifications telling you when it's your turn and a wall-to-wall bragging option for winners.
The not-Scrabble game app was introduced to iOS by Newtoy in 2009 before that company was acquired by Farmville developer Zynga in late 2010. Boasting more than 20 million active users, Words with Friends lets you play up to 20 simultaneous online games, in which you try to arrange seven letters into the best scoring word possible.
Even though Words With Friends previously allowed users to connect with each other through Facebook, the game itself has been restricted to mobile devices until now. Zynga's success with Facebook-based games has clearly played a part in the platform jump; in fact, Words with Friends's move to Facebook marks the first time that a Zynga game has moved from a mobile platform to Facebook, instead of the other way around.
Zynga has not yet announced an official launch date for the Facebook version of Words With Friends, but some speculate it could arrive as soon as next week.