Stop. Look. Listen. This week's roundup of iOS accessories allows you to do all those things—and more. Here are some of the new accessories that have popped up on our radar recently.
Arexit: The $48 A-Fold stand for the iPad and iPad 2 displays your tablet on an aluminum base that can be tilted at four different angles for optimal viewing. Easy access to the tablet's ports and connectors makes it easy to attach speakers or a dock-connector cable.
Bowers & Wilkins: The British audio company has unveiled its new $180 C5 noise-isolating in-ear headphones. The C5 includes an Apple-style inline remote/microphone module for controlling playback and taking calls on the go, and the company claims the C5 includes a number of innovations for ear fit and sound quality. The C5 should begin shipping this month.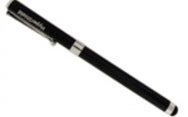 HyperShield: If you've got too many doodads stuck in your breast pocket, HyperShield's new $20 3-in-1 Smart Pen for iPad 2 can help cut the clutter. This writing instrument includes a capacitative stylus for use on the iPad's touchscreen; a built-in magnet that uses the iPad 2's magnetic sleep/wake feature to wake up the iPad by simply stroking the right-hand side of the screen; and a ballpoint pen, just in case you have to actually use paper on occasion. The Smart Pen is available in six colors.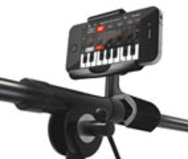 IK Multimedia: iPhone-loving musicians have another tool at their disposal: The $40 iKlip Mini makes it possible to attach every generation of iPhone and iPod touch to your mic stand, letting you use the iOS device for sheet music, sound effects, and more. The iKlip Mini includes a detachable iRig bracket for AmpliTube and other guitar-effects apps.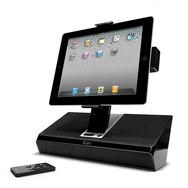 iLuv: The $130 iMM727 stereo speaker dock turns your iPad into the centerpiece of a sound system, although it's compatible with other iOS devices, as well. The system includes a multi-directional arm that lets you rotate and tilt the iPad for the best viewing angle, plus a remote control, a sync cable, and an AC adapter. You can also connect the iMM727 to your computer to sync your iPad with iTunes.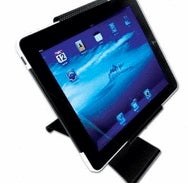 iPad Butler: This German vendor is bringing its line of tablet accessories to the United States. But unlike most add-ons, these products are designed with institutions in mind. The accessories include the Carbon Deluxe Stand ($63 and up), which includes a suction cup and a wall bracket for attaching the adapter and iPad to any household or vehicle surface; a Floor Stand ($125 and up), available in aluminum or plastic, that includes a flexible gooseneck for an adjustable display; and a Security Lock system ($63 and up) to secure the tablet for public use, such as at trade shows. The products are intended mostly for business users, and prices vary according to the number of units purchased.
JVC: Lately, JVC seems to come out with a new iPhone- or iPad-compatible sound system every other week. This time around it's the new UX-VJ, a dual-dock alarm clock that features side-by-side rotating that accommodate an iPhone and an iPad, simultaneously, each in landscape or portrait orientation. The $200 system includes surround-sound effects, a video output for television connections, and a remote control. The UX-VJ is available in black or white, and the detachable speakers can be wall-mounted or positioned next to the main unit.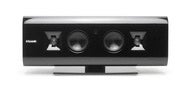 Klipsch: The new Gallery G-17 Air AirPlay Speaker takes advantage of Apple's AirPlay technology to let users stream audio from iTunes and iOS devices to the speaker system. The G-17 features four drivers and sports a high-gloss black finish; the front grille is magnetic for easy removal and replacement. The system's removable base allows for mounting on a wall, ceiling, or desk, and you can also connect USB and analog audio sources. The $530 system is expected to be released in the fall.

Michael Cornelissen: This $13 CableGuy is an inexpensive accessory that stores your iPhone or iPod's white earbuds while keeping the cables untangled. The CableGuy comes in three colors, and includes a clip to let you snap it onto your shirt or other clothing.

nClosures: For salesmen and other professionals who use their tablets in a public setting, nClosures has introduced the iPad Kiosk enclosures and mounts. The wall-mountable aluminum frames include a locking screw to make sure that iPads don't wander off. Each accessory is available in two stock colors, though additional options are available for custom order. Price and shipping information aren't yet available.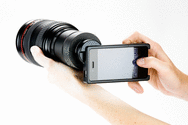 Photojojo: This camera-accessory company has introduced the $250 iPhone SLR Mount, which lets you mount a Canon EOS or Nikon SLR lens to your iPhone 4, allowing for better lenses and manual focus. The mount includes two loopholes to attach a camera strap, so a lens-equipped iPhone can be slung around the neck like a real camera. The mount should ship at the end of August.
Scosche: This vendor has launched the $75 SneakPeek Auto (a.k.a., the Composite A/V Cable for Mobile Video Systems), which lets you connect your iPad, iPhone, or iPod touch to any car-entertainment system with RCA inputs The SneakPeek Auto also charges your device while connected.
Thoughtoutbiz: Longtime stand maker Thoughtoutbiz has introduced a new pivoting viewing stand for iPads, the $85 Stabile Pro. It includes a steel-ball pivoting cradle that lets you rotate your tablet across an 80-degree range of motion. The four-pound steel stand comes in three colors, includes non-skid feet, and is pitched at iPad owners who like to use their tablet in conjunction with a Bluetooth keyboard.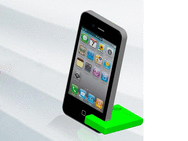 USBFever: For many of us, video viewing on the iPhone 4 often means holding the device in our hand, or propping it on our stomach. The $9 Magic Ped provides a portable alternative: a rubberized accessory, available in three colors, that you can carry in your pocket or on your keychain. When you want to view video, just set the device on a flat surface and slide the iPhone right in. USBFever has also launched several other products recently: the $50 Super Mobile Power Pack, which has two USB-power ports for the iPhone and iPad; the $13 AAA Battery Emergency Charger for iPhones and iPods; and the $17 High Power Dual USB Car Charger for all iOS devices.
Zero1: The long list of companies that want to turn your iPhone into a remote-control device has been joined by Zero1, whose $99 VooMote One attaches to your phone. In cooperation with the free VooMote app, the VooMote One's infrared transmitter can control hundreds of TV, DVR, and audio systems. The VooMote One will go on sale this month.
iPad (1st generation) Family
64GB iPod Touch (fourth generation, late 2010)
Price When Reviewed:
$279