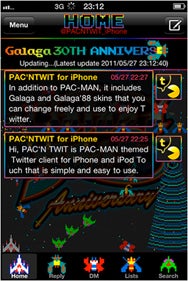 The iPhone has loads of Twitter clients. Some are good. Some are awful. Some of them used to be good, then got awful, and vice versa. But until now, none of them have had Pac-Man in them.
That all changes today, though, with Namco Bandai's release of Pac'N Twit for iPhone and iPod touch. It's a simple (and free) Twitter client that supports push notifications; multiple accounts; searching by hashtag, user or location; posting pictures and abbreviating URLs. There are also plenty of settings to tweak and customize the experience as well as four retro themes to apply to the client—two based on Pac-Man, two on Galaga. All feature thematically-appropriate graphics and optional sound effects, and "more useful features are planned," according to Namco. Coming under the category of "not useful but an idle distraction" is the ability to spin a roulette wheel and collect puzzle pieces to unlock Pac-Man and Galaga iPhone wallpapers.
As a Twitter client, it seems to be perfectly competent. There's a mildly-obtrusive ad at the top of your timeline but it's nothing people who have used other free Twitter apps haven't seen before. Word wrap is non-existent, however, with long words often being split across a line break. This is a mild irritant but doesn't affect usability and hopefully won't be too difficult for Namco to patch out in a subsequent update.