Pulp, the $5 news-reading app for iPad from Acrylic Software, is so endlessly customizable that if you don't like it—well, that might actually be a reflection on you.
The app (which previously sold as Times on the App Store before a name change last year) is pitched as a "personalized newspaper," but lots of apps make the same claim. Pulp goes a step further, turning you into a newspaper designer. You select the websites you want to read, then choose the layout. One, two, or three columns per page? Do you want a simple list of headlines from a news source, or a summary of each story? How about a summary of the top story—including a picture—and just the headlines for the rest? Do you prefer the Web version of the story, or a bare-bones Readability-style look?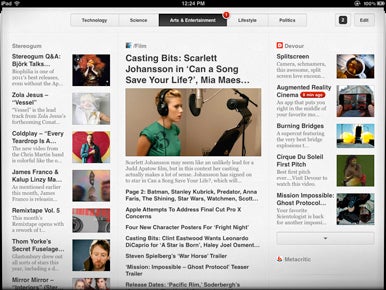 What's great about Pulp is that you make most of these decisions anew for each topic and each feed you import: there is no one-size-fits-all solution to data display—none of the forced uniformity of RSS reading that sometimes makes your eyes long for a good, well-designed newspaper or magazine.
Unless, of course, that's what you want. And some users might not want to take the time to design their own iPad newspaper. That's fine: you can let Pulp's default settings do the work, or you can move on to a simpler application.
The app does a competent job of grabbing feeds and letting you share the stories you find. It also syncs with the $10 Pulp for Mac app. But it's the design—and the ability to make it conform to your desires—that really sets Pulp apart. If you don't have a good experience using Pulp, it's probably your own darned fault.
[Joel Mathis is a freelance journalist and political columnist for Scripps Howard News Service. He lives in Philadelphia.]