News.Me is either a really limited Twitter client or a really limited news aggregator. Either way, it's the limitations that define this iPad app from Bit.ly and The New York Times.
Somewhat like the much-lauded Flipboard, News.Me takes the links posted by the friends in your Twitter feed—no other social networking service has input—and displays it in a more attractive summary form. The app also offers a few additional feeds from select celebrity Twitter users like Arianna Huffington and Jeff Jarvis.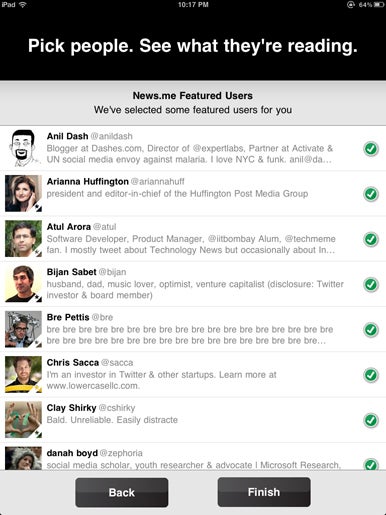 News.me's user interface is attractive and easy to use. You can use your thumb and forefinger to stretch a story in the list, seeing more of it, or you can tap to see the entire story in a clean, readable, ad-free format. You can share the stories to Twitter, Facebook, or Instapaper, or open them up in Safari.
So what's wrong? News.Me doesn't give you access to your Twitter lists. And unlike Flipboard, it doesn't let you add additional feeds within the app. If you like @BreakingNews but don't want it cluttering your main Twitter feed, you're out of luck: There's no way to access it from News.Me. That makes the app clunky both as a Twitter client and a news aggregator.
Those limitations are compounded by this: While free to download, News.Me is a subscription-based app—$1 a week or $35 a year. It's not worth it. You can use Flipboard for free and have substantially more flexibility in choosing your news sources. Why would you pay for a lesser service?
[Joel Mathis is a freelance journalist and political columnist for Scripps Howard News Service. He lives in Philadelphia.]