Low-light photography
If you like to shoot subjects in low light—whether a dark alley, a dimly lit house, the night sky, or a performance in a darkened auditorium—you'll want to look for certain features when shopping for a camera.
First and foremost, you need a camera that supports high ISO settings without yielding images that contain a lot of noise. Be sure that images shot at ISO 800 to 1600 are free of speckles or splotchy color patterns.
A camera or lens with image stabilization won't help you freeze motion, but it will help ease the effects of camera shake, often making it possible to shoot sharp images that would be impossible to achieve with an unstabilized lens or camera.
If you're interested in low-light landscape shooting with a DSLR, then you'll want a camera with a mirror lockup feature, which helps reduce vibration during long exposures. Many Canon DSLRs have this feature, including the $900 (with lens) EOS Rebel T3i.
Many new point-and-shoot cameras (as well as the iPhone 4 and iPad 2) use backside-illuminated sensors, which usually capture more information in low-light situations. But a more useful point-and-shoot feature is a handheld low-light mode. Sony's cameras call this mode Handheld Twilight, and Canon's HS line calls it Handheld NightScene.
Rugged shooting
Bad weather can ruin your whole day and really screw up your camera. Even if you don't shoot in extreme conditions, there might be times when you need to think about the durability of your camera. If you like to snap shots of your kids around the pool, if you tend to regularly visit dusty climates, or if you shoot in extreme heat or cold, you may need a camera made to withstand the elements.
Most cameras are actually more durable than you might think. Light rain, a few splashes of water—these most likely won't hurt your camera. But if there's a chance that you might submerge your camera, or get trapped in a serious deluge, shop for one that is fully waterproof instead of water-resistant. Most waterproof cameras are rated to at least five meters of depth, which is good enough for most casual water-related shooting. If you already have a camera, then you can opt for a waterproof enclosure, which can let you go even deeper underwater.
If it's not weather but rather wear and tear that you're worried about, consider a shock-proof camera, which is optimized to withstand dropping and even crushing.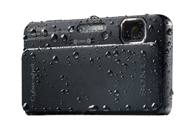 The $1700 Olympus E-5 DSLR camera is splash-proof and dust-proof. The $1600 Pentax K-5 is weather-sealed and built around a stainless-steel skeleton. The point-and-shoot market has some cool (and far more affordable) rugged offerings, like the $350 Pentax Optio WG-1 or the water-, dust-, shock-, and freeze-proof $320 Sony Cyber-shot TX10.
Landscape photography
Typically, when you shoot a landscape scene, you want deep depth of field, to ensure that everything in the scene is in focus. Fortunately, any lens or camera will be able to stop down to a small aperture to get deep depth of field. Obviously, if you want to shoot in low light, then you'll also want good high ISO performance.
A sharp lens is important for preserving detail, and if you're working with a DSLR, note that the smaller its image sensor (as opposed to full frame), the deeper depth of field it will yield. Ultimately, small camera size might be your biggest concern—for example, if you're heading deep into the backcountry and want to keep weight down.
Portraits
For portraiture, you'll want a fast lens, which will let you capture shallow depth of field, to blur out backgrounds. You'll also want a lens that's slightly telephoto. The kit lenses on most SLRs and point-and-shoot cameras will definitely provide a slightly telephoto focal length that will be ideal for portraiture. A slightly longer lens compresses features, to produce a more flattering look.
Look beyond the specs
Knowing the features you need for the types of photographs you want to capture is a great first step in buying a camera. But keep in mind the many other factors that make a camera great, good, or just OK. Macworld Lab does extensive image testing on point-and-shoot, compact interchangeable-lens, and DSLR cameras. See the latest full reviews at Macworld's Digital Photo channel.
[Senior Contributor Ben Long is the author of Complete Digital Photography, sixth edition (Cengage, 2011).]
Optio Wg-1 Gps Digital Camera (orange)
Sony Cyber-shot DSC-TX100V Compact Camera
Note: When you purchase something after clicking links in our articles, we may earn a small commission. Read our affiliate link policy for more details.