The Instagram stats are undoubtedly impressive: 10 months in the iOS App Store, seven million users, 15 photos shared every second, and 1.29 million photos shared a day. The developers behind the free photo-sharing app announced another striking statistic on Wednesday—its 150 millionth uploaded photo.
Instagram, for the uninitiated, is a typical photo filter app à la Hipstamatic or Camera Bag. What sets it apart is a helping of social-networking integration. Users can easily share their Instagram photos on popular services like Facebook, Twitter, Flickr, Foursquare, and Tumblr. The app launched in October 2010 and its user base has been growing at an incredible rate ever since. The boom is especially impressive because so far, the app has been exclusively available on the iOS platform. That could change in the near future.
"We're focusing on making Instagram the best possible mobile photos experience," said Kevin Systrom, Instagram's co-founder and CEO in an email. "A lot of what we do day-to-day is dream up new interesting features that'll make that goal a reality. We're definitely paying attention to the need for both a website and Android."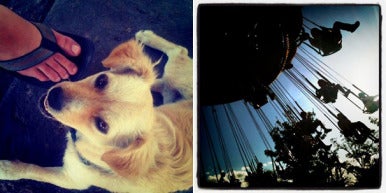 The Instagram API has created an eco-system of companion services and apps, which have helped fuel the platform's success. There are desktop clients such as Carousel, InstaDesk, and Instaview, which allow users to view their Instagram galleries and photo streams on their Macs. Companies have teamed up with Instagram for promotional events like photo contests, Instagram images have shown up on major news sites like ABC, and celebrities have shared filtered snapshots of their lives using the app.
Systrom is also a big fan of the spin-off products: "The ones that get me excited are Webstagram, Carousel, Flipboard, Followgram.me, Inkstagram, and so on. We're super excited about all of them."