There must be a thousand ways you can send pictures from your iPhone to your friends and family, so I am always looking for new ways to do so. Hey, snapping a picture and uploading to Facebook is, well, so amateur.
Photogram, from Timelines is my latest toy that drives those in my Facebook feed nuts. "How does he do that?", they ask. Magic, I say. Magic and iPhones. Lots of iPhones.
Photogram puts four pictures together into a neat little postcard package that you can then send off to Facebook, Twitter or an email. You can even create groups that you send to regularly, like family, friends and "fellow iPhone freaks like me." You can choose from 33 built in themes to customize your note, and add your four favorite photos, or take some using the camera. The interface is easy to follow, with a step by step process that makes it pretty hard to mess up, so send it off, and wait for the oohs and ahhs to roll in. That is, until your friends find out this little app is actually free.
That's right, Photogram is one of the new breed of apps that gives away the goods, then asks you to pay for extra features; in this case, additional themes to use. Many of these themes are created by independent artists specifically for the app. Not that the built-in ones are bad, but at 99 cents a pop, you might think it worthwhile to make sure your holiday card doesn't use that same theme aunt Gladys used. Yep, totally worth it.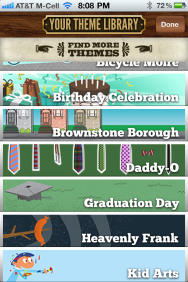 Be warned, sensitive types, this app also puts an ad for itself on the bottom of every card it sends. And it's not just a, "this card created by Photogram" kind of thing, but a full on "Get this in the App Store" button. An annoying bit of self promotion, especially because it ruins my "boy-is-he-a-creative-guy" facade.
Oh well, most of my friends won't look that close anyway.
[ Jeff Phillips is an educator, photographer and technology advocate. Find him on his blog or podcast.]