The photo sharing app Tracks from Tracks Media wants to be a hub for social photography, but it needs to expand its reach first.
Getting started with the app is easy enough—create an account and tap the plus button to begin a new project. After starting, you can invite friends to participate out of your address book. Sadly, adding your friends doesn't actually do anything if they don't already have a Tracks account.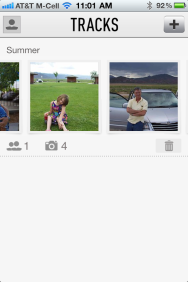 The obvious way to get a social project going is to start it when you are at an event with some friends who can also download Tracks—perhaps at a concert or party. Everyone can add their own pictures to the project and by the end of the night you will have a portfolio of images from several different perspectives. I was happy to see that you can add photos to the project from your Camera Roll, so you can collaborate on a project even after you have gone home for the night. It might be a good idea to take a look at some of those pictures in the light of day before sharing them, right? You are able to swipe left on one of your pictures to delete it, so it is easy enough to fix any poor choices.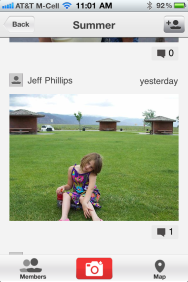 There is a map feature, which is OK, but I found no way to change the map coordinates from your "current location". This was confusing when all the pictures I took for our Vacation project at Old Faithful showed up at my house in California.
For an app that is clearly meant to be social, there is a definite lack of social integration. This app is screaming out for options to share to Facebook or Twitter, but they are not there. Your ability to share your projects with others is limited to those who have accounts with Tracks, and you need to invite them yourself. Let's just say you had better be pretty popular to get this to work well.
[ Jeff Phillips is an educator, photographer and technology advocate. Find him on his blog or podcast.]