When it comes to checking email on your iOS device, sure there's a built-in app for that—but Google would be delighted for you to use its mobile Gmail Web app interface instead. On Wednesday, the search giant announced that its Gmail for mobile interface now supports pull-down-to-refresh, features enhanced graphics that work with the iPhone 4's Retina display, and adds better animations.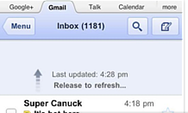 Twitter (née Tweetie) was the iPhone app that introduced the pull-to-refresh interface model, which has since been sincerely flattered by emulative apps like Facebook, TweetBot, and many others. Google's Web-based implementation in the updated mobile Gmail app checks for new messages when you perform the gesture. (Google notes that pull-to-refresh works not just on iOS devices, but on PlayBook tablets, too; I've always assumed that PlayBook owners don't bother checking email.)
Because Google recreated Gmail's graphics at a higher resolution, its imagery should now look sharper on the iPhone 4's Retina display.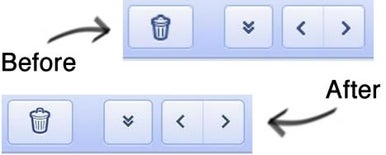 Finally, the improved transition animations appear when you tap into a conversation, tap back to your inbox, or navigate Gmail in other ways. Google describes the new transitions as "quick" and "small," and says that the subtle CSS3-based animations should make the Gmail experience "feel smoother."
You can check out the latest iteration of the Gmail Web app by visiting mail.google.com on your iOS device.