When I was growing up, we had Monopoly and Life and Sorry and we were happy—but only because we were ignorant of the sphere of more sophisticated board games unfolding beyond our reach. With the release of Ravensburger's Puerto Rico HD, one of the best board games of the last decade makes its way to the iPad—and Battleship it ain't.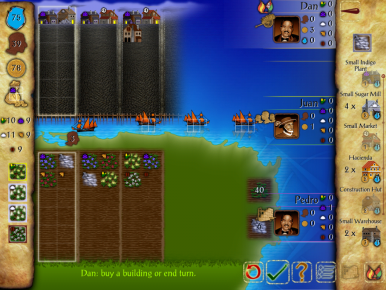 In Puerto Rico, you compete against other players to develop your own version of the titular island, farm crops, and build up your city. You produce goods like corn, indigo, and sugar for trade and ship them off to earn victory points.
Andreas Seyfarth's game is incredibly popular and long held the top spot on board-game-enthusiast site BoardGameGeek; its appearance for the iPad will be a welcome one for many tabletop players. In jumping to the digital realm, it joins previous titles like Small World, Carcassonne, and Ticket to Ride.
The app features multiplayer support for up to five players, both for pass-and-play around a table as well as competing online via Game Center. And, just in case you can't convince your friends to play, there's an AI with variable skill levels too.
While the game is undeniably a complex one, Ravensburger has tried to simplify matters by including a built-in tutorial, as well as hints, rules, and a quick reference "almanac." The game also features cinematic cut screens (which can be disabled in the options), the ability to play your own music in the background, and even the possibility of undoing your turn if you make a mistake.
Puerto Rico HD currently costs $8 as a special introductory rate (the normal price will be $10) and is available for iPads running iOS 3.2 or later.