It's been a long time coming and has seen several delays—mostly to sort out some technical issues and refine the touchscreen interface, apparently—but Final Fantasy Tactics: The War of the Lions is finally available for iPhone and iPod touch. And yes, it costs $16.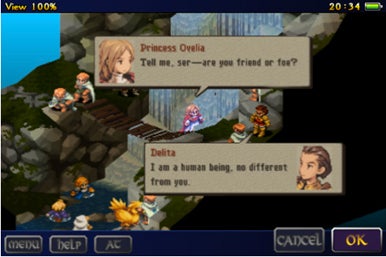 The game is based on the enhanced PSP version, which featured a much better translation than the 13-year-old PS1 version along with some new jobs, secret characters and cutscenes. The iOS version has a new touchscreen interface, skippable cutscenes and improved loading times. The view of the battlefield can be manipulated through swiping and pinching rather than cycling through fixed camera views. And the visuals have apparently been "improved."
With 22 jobs, 400 abilities and at the very least 50 hours of gameplay to plough through—considerably more than that if you're a completionist—Final Fantasy Tactics is certainly one of the most expansive, deep games ever to be seen on the iOS platform. But does that make it worth the $16 price tag when the version available on PSN is only $10 and App Store? games rarely go above the $10 mark? That remains to be seen.
A dedicated iPad version of Final Fantasy Tactics will follow later in the month. To celebrate the game's launch, Square Enix's other iOS titles have all been discounted slightly.