Trove—the free news-aggregator app from The Washington Post—does a creditable job of finding coverage about topics that interest you. Too bad both versions of the app are so unpleasant to look at.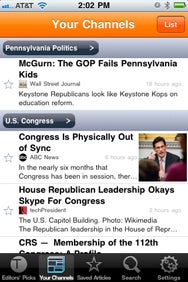 In both its iPhone and iPad iterations, the app uses Facebook as its foundation, taking your "likes" and creating news feeds about those topics. But Trove is flexible—you can add and subtract topics, meaning you won't be forced to endure an onslaught of Firefly-related stories. The iPad version of the app also has a quirky feature that helps you add topics by quizzing you about your preference between two unrelated topics: Are you more interested in David Bowie or high blood pressure? Why not both?
Once you've selected your topics, Trove's search engine—which culls headlines from 10,000 or so sources—isn't always reliable. The "Pennsylvania Politics" section recently offered me a Los Angeles Times story about gardening, and another piece about a local wedding gone bad. Entertaining? Sure. But not really relevant.
And there are the aforementioned design issues. Click on a story in Trove, and you're whisked to an in-app browser to read. That's not awful, but apps like Readability, Flipboard, Zite, and News.Me have trained me to expect a more visually consistent reading experience. To be fair, a recent update to Trove has made the transition to the in-app browser less jarring, though it's still not the consistent experience I would prefer.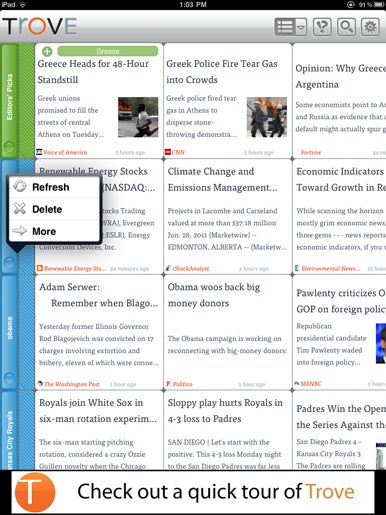 The bigger problem is on Trove for iPad, which features an unending grid of equally weighted stories—it's easy for the eyes to get lost. In this case, Trove for iPhone's more limited real estate is an advantage: you can see only three headlines at a time, instead of the iPad version's 12.
In other words, Trove lacks the elegance of presentation I've come to expect from other aggregating apps. But the shortcomings are matched by an uncommon flexibility and range in finding the news that interests you.
[Joel Mathis is a freelance journalist and political columnist for Scripps Howard News Service. He lives in Philadelphia.]