It's been a long time since onetime Internet pioneer AOL was anything but a punchline, but the company's new free Editions by AOL news-gathering app is actually a mostly competent offering—even if it does little to distinguish itself from the growing field of news aggregators.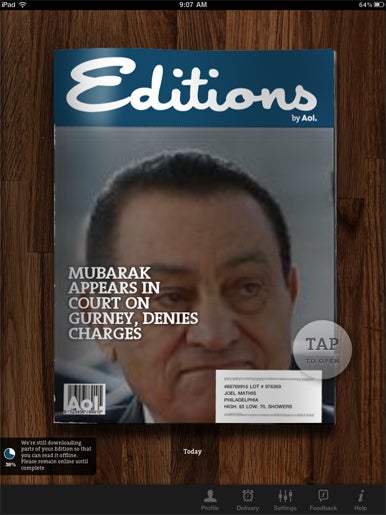 Like other apps of this ilk, Editions asks permission to tap into your Facebook and Twitter accounts, so it can use the interests you've shown on those networks to shape the news it presents to you. (Unlike the other apps, though, you further shape the news by tapping into your AOL/AIM account.) Once you've done that, you can further customize what kind of news you'd like to see, and what sources are included in the roundup. So far, so familiar.
One thing that Editions does differently from its competitors: It only "publishes" the news once a day—offering itself not as a 24-7 aggregator, but instead as more customizable version of News Corp.'s The Daily. If you're a news junkie who requires a constant stream of headlines, you'll want to skip this app; if you're looking for a quick overview of the day's news, however, Editions might be to your liking.
One notable flaw: Editions invites you to enter your zip code so that it can provide you with local headlines. I live in Philadelphia, and tapped in my zip code accordingly; the app gave me news from Ohio—one state over.
Geography aside, anybody who downloads this app looking for an opportunity to take potshots at AOL will be disappointed. News-loving iPad users might even be pleased.
[Joel Mathis is a freelance journalist and political columnist for Scripps Howard News Service. He lives in Philadelphia.]