I live a Web-surfing life of conflict and torment. I love Safari's speed and infused Appleness, but I long for some of the benefits that those other browsers—like Chrome, Opera, and Firefox—can offer. The feature I've most missed in Safari after sojourns to other Web browsers is the ability to use a single, dual-purpose location bar. Other browsers let you type both URLs and search terms into the location bar; the browsers figure out which you've typed, and perform a search on the terms if your entered text doesn't seem URLish. Olivier Poitrey's Safari Omnibar recreates that "one bar to rule them all" feature.
Omnibar is free, and runs as a SIMBL plug-in; it works with the latest versions of Safari in both Lion and Snow Leopard. After you install the plug-in and restart Safari, the search box in Safari's toolbar will vanish. Now, when you type search terms into the single location field and press return, you'll trigger an immediate Google search.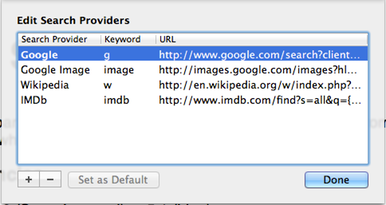 Prefer Bing? Control-click (right-click) on the URL bar and choose Edit Omnibar Search Providers. You can adjust not only the default search to perform, but also add other keywords to trigger searches. (I added one for IMDb so that I can type imdb christian clemenson and perform my obsessive actor searches without first visiting the site's homepage.)
If you decide you'd rather keep your URLs and searches separate, you can remove Omnibar by deleting the plug-in from the /Library/Application Support/SIMBL/Plugins/ folder and restarting Safari.