If there's one genre of game to which the iPad seems almost ideally suited, it's adaptations of board games. Days of Wonder's Ticket to Ride is one of the latest to jump from the kitchen table to the tablet, and it does so in a manner that brings all the fun of the game without the Ziploc bags full of plastic pieces.
In Ticket to Ride, your goal is to build railroad lines across a map—by default, the United States, though expansions also offer Europe and Switzerland—connecting disparate cities. The farther apart the cities, in general, the more points you earn for completing your route. Each leg connecting cities is composed of a certain number of boxes of a specific color; in order to place your trains on that route, you need to play a corresponding number of cards of the same color—i.e., in order to connect Denver to Omaha, you'll need four purple cards. Locomotive cards act as a wild, substituting for any color.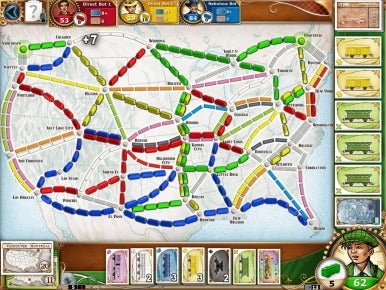 Each turn, you have a choice of three actions: You can place your trains between two cities, you can draw new train cards, or you can choose additional routes. Each player starts with 45 trains; when any player drops below two remaining trains, the end of the game is triggered, allowing everyone to play a final turn. Points are then scored depending on how many train cars a player has placed and how many routes he or she has completed. A bonus is also awarded to the player with the longest continuous route.
The iPad's touch interface meshes well with the game; to draw cards you just tap them, while laying track simply involves dragging and dropping the appropriate cards onto the section you wish to complete. You can cycle through your route cards in the bottom left corner by tapping them; the cities at the endpoints of the selected route will be highlighted in green on the board, making it easy to see your objective.
You can also keep an eye on all of your opponents' current status at the top of the screen, where the game lists not only how many train cars they have remaining, but how many route cards and train cards they're holding; you can see your own information at a glance in the bottom right of the screen.
Given that Ticket to Ride relies heavily on colors, the developers have also made a nice concession for color-blind players by adding distinctive symbols to each card and to the appropriate segments of track (though you can only see the icons on the track by pinch-zooming in on the map).
Ticket to Ride provides a variety of play options: If you'd like to match wits with your friends online, you can do so either via the built-in Game Center integration or Days of Wonder's own matchmaking system. Or you can play against whoever's online right now by browsing the multiplayer lobby and joining any available game. There's also support for up to five players locally via pass-and-play.
If you'd prefer to hone your skills against the computer first, there's support for facing off against up to four AI-controlled opponents. I found the AIs a good challenge, especially when playing in games with three or four of them, but your mileage may vary if you're better at the game than I am or if you're a 19th century railroad baron. The robotic opponents can also be used to fill out a pass-and-play game.
The app's interface is gorgeous, with hand-crafted illustrations that fit the style and period nature of the piece; the colorful and friendly nature of the pictures prevents the game from getting overwhelming. That attention to experience is little surprise, given that the app was created by the same folks that made the board game in the first place. (The company previously adapted its board game Small World to the iPad as well, and it shows much the same level of care.) By default, recorded voices walk users through what to do in the menu screens; while that may be helpful for younger players, adults will likely find them grating pretty quickly. Fortunately, you can disable the voices in the app's settings.
Online play has a few kinks. While it's easy to start a random game with strangers, which you can do by tapping the Play button from the main screen and then selecting Online, it's a little trickier if you want to play with friends. First, you have to hit the More… button on the main screen, then the Online Games icon, followed by choosing from either your buddies or the Game Center list, then inviting players and going through the Game Center rigmarole before the game finally starts. It's a process that could probably be simplified and made accessible from the main screen.
There's an online chat feature in game as well, but the chats appear in small bubbles that often truncate longer messages and they disappear after a second or two, with no way to bring them back. Also, a built-in filtering engine for mature language—this is a family game, after all—often provides unexpected hilarity.
While I had some stability issues with online play in the initial release of the game—players frequently got kicked out of online games and resuming them was often hit or miss—subsequent updates seem to have ironed out most of those issues.
While Ticket to Ride's $7 price tag is higher than the $1 many iPad users are accustomed to paying, the quality of the game is well worth the cost. Aficionados of the board version will find the game a faithful reproduction, while new players should have no trouble getting the hang of it—so I guess you could say it's all aboard.
[Macworld senior associate editor Dan Moren longs for the bygone days of better train travel.]
Note: When you purchase something after clicking links in our articles, we may earn a small commission. Read our affiliate link policy for more details.