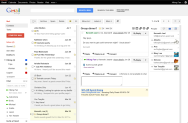 Just a day after unveiling a variety of upgrades to its mobile Gmail interface, Google took the wraps off a new Labs feature for the desktop edition of its famed webmail client: Preview Pane.
In a blog post announcing Preview Pane, associate product manager Maciek Nowakowski writes that the new feature affords "a very familiar layout to those of you who have used Gmail on a tablet device"—a phrase which is linked specifically to Google's blog post about Gmail on the iPad. The comparison is apt: Much like Gmail's iPad-optimized edition, Preview Pane adds a large box to the traditional Gmail interface that shows the content of the currently selected message, without navigating away from your inbox.
Once you enable Preview Pane (from the Labs tab of Gmail Settings), you can choose whether the pane should appear to the right of your inbox (the default behavior, akin to Lion's default look for Mail), or if it should appear below the inbox (which hews more closely to Snow Leopard's Mail interface). Gmail also allows you to adjust how many seconds you can spend looking at a message's preview before that message gets marked as read; the default is three seconds.