I own a well-stocked liquor cabinet. Perhaps too well-stocked. Hidden among the bottles of spirits I regularly enjoy are once-tasted, quickly forgotten adult beverages. Some arrived as well-meaning gifts from well-wishers, others as the base ingredients in cocktail experimentation gone horribly awry. Whatever the reason, they're taking up space that could be occupied by stuff I actually like to drink.
Childhood lessons about the dangers of alcohol apparently never took, but admonitions about the importance of thrift certainly did. Pouring perfectly good booze down the drain or into my flower garden just because I haven't yet found a cocktail that pleases me seems a tad wasteful. Besides, how else does one find enticing new beverages without a little trial-and-error?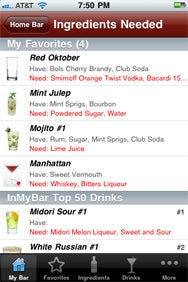 InMyBar, a cocktail recipe app from Quintal Technologies, could be the solution to my twin dilemmas of discovering new cocktails and finding a use for otherwise neglected spirits in my liquor cabinet. You input all the ingredients you have on hand—spirits, mixers, garnishes—and the app will not only show you what items you still need to make certain cocktails, but suggest drinks you can make with what's already available.
Entering what items you have available is a fairly straightforward process. InMyBar contains a vast list of ingredients that you tap to add to your virtual bar. (If you want to track the inventory of multiple liquor cabinets, InMyBar lets you manage multiple bars.) The app's ingredients list skews toward brand names—seven variations alone of Jim Beam's assorted bourbon and rye whiskeys, for example—though I wish the app would make it easier to simply insert generic spirits like "gin" or "vodka." True, some of the recipes contained in InMyBar call for very specific brands, but for many drinks—Manhattans, mojitos, sidecars, and more—highlighting specific brands and labels isn't worth the fuss.
As extensive as the ingredient list is, there are still some glaring omissions. I tried to select Angostura bitters for my bar inventory—a fairly common ingredient that's used to make a Manhattan, among other drinks. InMyBar only lists Angosturas Sweet and Sour, which I would not recommend using in an Manhattan, unless as a form of punishment. The app lets you manually enter ingredients not already in its database—a workaround for my generics complaint, I suppose—but that can create minor issues that flare up when it's time for InMyBar to offer up drink suggestions.
Those suggestions appear in two separate areas of the app—What Do I Need and What Can I Make. The former category shows a list of drinks—recipes you've starred as favorites along with InMyBar's 50 most popular cocktails—that details ingredients you have on hand in black and missing pieces to the drinking puzzle in red. It's a handy visual way to see what you need to pick up at the store if you're hoping to enjoy a mint julep in the near future—it would be even better if InMyBar added a shopping list feature for adding these wayward ingredients. Still, What Do I Need is a solid feature that's especially useful if you designate a lot of InMyBar's drink recipes as favorites.
What Can I Make is where the app really shines. Here, InMyBar surveys your liquor cabinet inventory—including those bottles you long forgot you had—and produces a list of cocktails you can make with what's readily available. I've had a bottle of vodka and another of triple sec occupying space in my liquor cabinet in an ill-fated Black-Eyed Susan experiment four years ago. A quick tap of What Can I Make, and InMyBar pulled up a recipe for a perfectly drinkable KamiKaze that also used some limes I had on hand. It's a near-perfect idea generator for coming up with new drink suggestions that use already-available ingredients.
As with any cocktail app, the recipes in InMyBar can come across as a little peculiar if they don't gibe with how you make drinks. For instance, the app's recipe for a Negroni calls for vodka, sweet vermouth, and Campari. That's a reasonably decent drink, but an honest-to-goodness Negroni uses gin, not vodka. Fortunately, a Clone Drink command in version 1.1.0 of InMyBar lets you copy a drink recipe and then edit it to your liking, so that my version of InMyBar now includes a recipe for a proper Negroni. You also have the ability to enter in recipes for cocktails that aren't among the 1100 already featured in InMyBar.
There's a fussiness to InMyBar that isn't always welcome. You have to be very exact on your ingredients for the app's drink suggestion features to work. I wouldn't think to enter "Water" among my bar ingredients, for example—it's not like my liquor cabinet is in the middle of the Kalahari Desert—but because I didn't, InMyBar thinks I don't have one of the ingredients to whip up a mint julep. Similarly, even if you tell the app you have limes, it doesn't think you have lime juice. (In my experience, if you have limes, all you need is a paring knife and a decent grip to make juice.) InMyBar also is spotty with substitutions: The app insists you can only make a Manhattan using rye whiskey, when bourbon is an acceptable—and in some circles, preferred—alternative. Thus, InMyBar says that I can't make a Manhattan, even though the amount of bourbon I have in reserve could rival the state of Kentucky's stores. (The app also doesn't recognize the Angostura bitters I manually entered as a substitute for "Bitters Liqueur.") Again, the Clone Drink function allows me to tweak the Manhattan recipe to my liking, but I would prefer to see more flexibility out of the box.
InMyBar isn't aimed at professional and hobbyist bartenders who can either boast an encyclopedic knowledge of cocktail or are looking for a reference guide to augment their already considerable expertise. The app seems more appropriate for people who do some entertaining and might be called upon to mix a drink they've never heard of or to fill the request that's stumped many a bartender—"Surprise me." I have some quibbles with the app's flexibility, but I'm fairly impressed with InMyBar, particularly its ability to suggest cocktail recipes using the ingredients already at your disposal. A little fine-tuning, and this could be a must-have app for the cocktail set.
[Macworld.com executive editor Philip Michaels particularly enjoyed the testing process for this app.]