SLIDESHOW
Slideshow: Macworld/iWorld 2014 in pictures
Photos from this year's expo in San Francisco.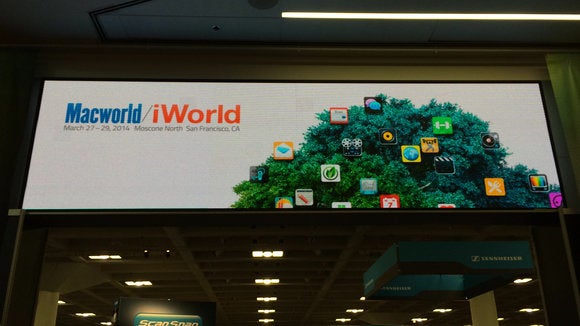 Welcome to the show
Whether you come for the sessions and keynotes or to see the products on the show floor, there's something for everyone at Macworld/iWorld 2014.
Before the gates open
Taken one hour before the show floor opened to the general public. As the minutes tick away, hundreds of people gather at the entrance.
Pi Dock-It Pro
Parle Innovations' $159 iPad case has a built-in keyboard that you can stash by flipping the case.
iPad Sketch Station
Located just outside the show floor entrance, artists Thierry Schiel and Luis Peso created artwork using an iPad.
Wheel! Of! Fortune!
Showgoers lined up at Square Jellyfish's booth for prizes.
We made the front page of the Times!
Visitors to the New York Times booth could make a personalized New York Times Home Page that featured a short video shot in the NYT Photobooth.
Another robot
At the booth of MacKeeper, purveyor of annoying pop-up ads. And a Mac system utility.
Boot Camp not needed
Windows were available at the show—but not of the Microsoft variety.
Optrix
Why bother with a GoPro or some other action camera when you use a harness from Optrix to wear your iPhone on your dirt bike?
Raffle
People love free stuff and raffles create large crowds, like the one at the Innovation & Technology Today booth.
Blue Microphones that aren't blue
Blue Microphones' popular Snowball mic is now available in a variety of colors.
Cellfy
This company specializes in products to help you take better selfies.
Fish tank west
This fish tank used to demonstrate waterproof cases was in the Seido booth at the west end of the hall.
Fish tank east
This fish tank used to demonstrate waterproof cases was in the Optrix booth at the east end of the hall.
Wi-Fi cubs
BearExtender gave away little toy bears to visitors of its booth.
Hoodies
Hoodivision sells shades for your iPad, so you block any light that prevents you from seeing the screen.
Next Up: Check out these related slideshows
Today's Best Tech Deals
Picked by Macworld's Editors