Many mornings, the very first thing I do after waking up is tend to the (usually bathroom-related) needs of whichever young child woke me up. Then I moan as I shuffle back to the cozy confines of my bed, eyes still barely open. It's generally too early to get out of bed and officially kick off my day, but too late to bother trying to go back to sleep. Thus, I turn to the (heavily-dimmed) screen on my iPad, to let its glorious apps ease me from grumpily tired to cheerily wakeful.
My kids won't always wake me up, though. And they certainly never help put me to sleep. But with my iPad resting right next to me on my nightstand, there's no reason it couldn't help with both tasks. That's precisely what Alarmed—a free, universal app from Yoctoville—sets out to do. Well, more accurately, that's one of the many, many things that Alarmed sets out to do.
The app combines wake-up alarms, sleep timers, regular timers, and time-stamped reminders. Creating new alarms and timers is intuitive enough, but you won't confuse Alarmed for an Apple-designed app; it's the kind of app you might describe as having a great personality. But we needn't judge the app by its design in this case, because its utility is so well executed.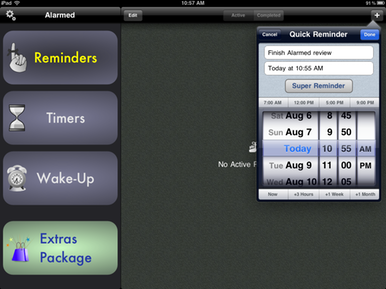 When adding a new alarm, you can choose to provide only a reminder time, or go deeper and customize all sorts of options. That's indicative of Alarmed's general workflow: The app consistently aims to offer quick, efficient options, in addition to finger-grained controls. When editing a time, for example, you can use the traditional iOS time sliders to find the precise moment you're after, or you can tap the +3 Hours, +1 Week, or +1 Month shortcuts. Once you have the core alarm set, you can customize everything—how often (if it all) that alarm should repeat, a custom alert sound, snooze options, pre-alarms, notes, and more.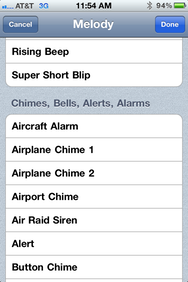 When it comes to choosing sounds, Alarmed offers an embarrassment of pitches. You can pick from a slew of short beeps, chimes, bells, sirens, whistles, instruments, melodies, animal sounds, human sounds, and sound effects. In my home, we now know that when the rooster crows, it's time to take out the recycling again.
To configure Wake-Up or Sleep timers, you tap the Wake-Up button, which is really only confusing the first time. You can set (and save) different alarms for different days; not only can you customize your wake up sound, you can also set its volume, how long a fade-in to use, the default snoozing window, and what message to display (if any). The 30-second volume fade in is particularly gentle.
With Sleep timers, you choose music from your synced playlists to fall asleep to; Alarmed fades the music out after an interval you specify.
Both modes offer access to an option titled Show Full Screen Wake-Up Panel. That panel shows a bright, easy-to-read clock, along with your scheduled alarm time and a countdown of how much longer you get to sleep.
Timers, too, are highly configurable. You can set timers that count up or down, choose their melodies, pause them as needed, and of course manage multiple saved and active timers.
All told, it's an impressive array of functionality for any app, particularly one that's offered completely gratis. Apple's built-in Calendar app works for setting reminders—including recurring ones—but I don't know if I want "Take out the recycling" clogging up my calendar. The Clock app offers solid alarm functionality, but is entirely MIA on the iPad, and lacks any full-screen clock mode. And the extra niceties in Alarmed that don't duplicate existing, built-in features (the Sleep timer, the enormous sound library) just add to the app's overall charm and utility.
As I said, this isn't an app that's going to win any Apple Design Awards. It looks like a labor of love. But it's easy enough to use, and built smartly, too: Alarms work even when you exit the app, defaulting back to push notifications.
You can pay $2 to unlock a few extra features. DayMinders allow you to set up recurring reminders throughout the day—every X hours instead of every X days, weeks, or months. Flashlight mode (accessed via the full-screen clock) either lights up the screen or, if you're using an iPhone 4, the built-in flash. You also get 14 more alarm sounds and a "shake to snooze" option.
With or without the $2 upgrade, Alarmed offers easy-to-use options for creating any alarms and reminders you need on your iOS device. The app works equally well on both the iPhone and the iPad, and its alarms work reliably, too. Clunky looks aside, Alarmed is pretty beeping impressive.
[Staff Writer Lex Friedman considered stating that Alarmed 'rings his bell,' until he stumbled across an online definition of that term.]