Having recently updated its iOS client to support the iPad, Skype on Monday released an update to its desktop VoIP client for Mac, bringing a handful of new features—including HD video calling.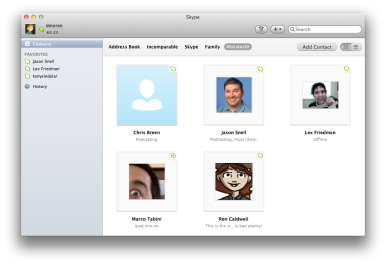 If pixelated video just isn't your style, you'll welcome Skype 5.3's HD video calling, which provides high-definition video, as long as you're using a supported webcam (the company mentions the Logitech C910). Skype also says that you can use your Mac's built-in camera, though in order to take advantage of the 1280-by-720 resolution you'll need a Mac equipped with a FaceTime HD camera.
Also included in the new version is an updated contact list view, which now lets you sort based on name, status, tags (which used to be groups), or location. You can also quickly mark contacts as favorites by clicking on the star icon next to their name, after which they will appear in the sidebar under a Favorites header. There's also a new grid view for contacts, which will look very familiar to those who've used the iPad interface. And, of course, there are minor bug fixes and other improvements.
Skype 5.3 is available for free from the company's website, and requires Mac OS X 10.5.8 or later. As always, some of the program's features—calling out to phone numbers and engaging in group video chat—require an additional cost.
Updated at 10:40 a.m. Pacific to clarify hardware requirement for HD video chats.