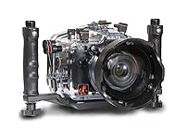 Taking pictures underwater is one of the most exciting (and challenging) photographic adventures you're likely to undertake. When you're playing in, on, or under the water, choosing the right equipment is critical when the only thing standing between your camera and water is a few millimeters of plastic or aluminum sealed with a sliver of an O-ring.
Whether you need a waterproof camera for snorkeling, a case for a compact digital camera, or a housing for DSLR, there are certain criteria to keep in mind when making your selection.
Waterproof your camera
Some camera companies, such as Canon and Olympus, offer custom underwater housings for their most popular compact cameras, as do a number of third-party housing manufacturers such as Ikelite and Sea and Sea. DSLR housings are almost always third-party products from companies like Aquatica and Subal, although Olympus does have a line of housings for its E-series DSLR cameras.
With the demise of the amphibious Nikonos 35mm camera in 2001, there are few choices for self-contained underwater cameras. Most of them, such as the Olympus TOUGH series and Pentax's WG-series cameras, have depth limits (between 10 and 33 feet). If you're going scuba diving, your best choice is to equip your camera with an underwater housing.
Depth rating
It may seem like a no-brainer, but it's important to choose an amphibious camera (one that does not need an external housing) or a camera housing with a depth rating that meets or exceeds your intended diving depth. Pressure is a major force underwater and a housing also needs to withstand the increased pressure. Sea-level air pressure is 14.7 psi (pounds per square inch) and increases by 14.7 psi per 33 feet of depth. Go below the recommended maximum depth for your housing and its controls may not work, it can leak or, even worse, implode. Camera manufacturer's housings tend to be rated for a maximum depth of 130 feet; third-party DSLR housings are often rated between 200 and 300 feet.
Plastic versus aluminum
The majority of compact camera cases, and some DSLR housings, are constructed of high-strength plastic. They tend to be a little bulkier and less durable than aluminum housings, but they're a lot less expensive—sometimes by a thousand dollars or more. Aluminum housings, on the other hand, are generally designed for DSLRs, are more rugged and more finely constructed than plastic models, but can easily cost between $2000 and $4000—and that's without a port, the front part of the housing (more about that later). There are a handful of housings that use both materials as well. Depending on your camera model, a housing may be available only in one material or another, so you may not have a choice.
Controls and ergonomics
Whether your camera is a point-and-shoot, an advanced compact model, or a DSLR, it's important to make sure that the housing's controls allow you to conveniently access the features you use most often. For example: Can you turn the on-camera flash on and off? Change the ISO? Adjust the manual exposure settings? Are the buttons and levers within reach while maintaining a solid grip on the camera? If you're a cold water diver and wear gloves or mitts underwater, are the controls sufficiently large, and spaced apart, for easy operation? If you can't check out the housing in person, look on the manufacturer's website or contact them for the availability and layout of controls via specs, diagrams, or photos.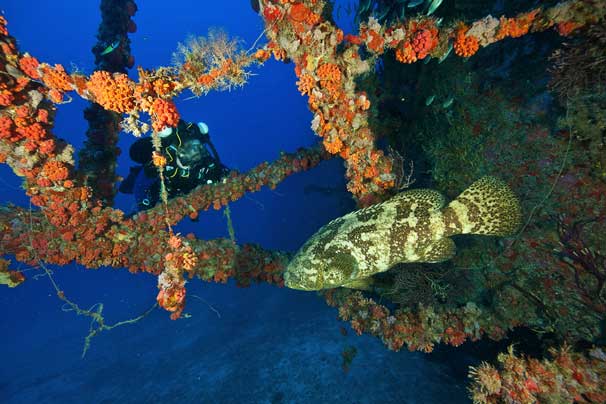 Lens ports
A lens port is the window in the front of the underwater housing that the camera lens shoots through. Non-DSLR cases generally come with an integrated port, so there's no extra expense, although you may have the option of purchasing a wide angle correction lens that can be attached to the outside of the housing. For the majority of DSLRs, a port is an optional part of the kit. Ports can be made of glass (more durable but more expensive) or acrylic (slightly more prone to scratches but less expensive). Flat ports are used for macro and mid-range shooting; dome ports are necessary for wide angle lenses since they maintain the lens' wide angle field of view (otherwise vignetting will occur).
Lights
Consider what, if any, artificial lighting you plan to use for your underwater photography. For on-camera flash, be sure that the housing has a flash diffuser to reduce backscatter (the reflection of light off particles in the water). If you plan to use external strobes with your housing, be sure that there are sufficient and appropriate bulkhead connections for hard wiring the strobe to the housing and camera, or fiber optic sync cords that allow the strobes to be triggered by the on-camera flash.
Underwater housing care and maintenance
Whatever case you choose, regular maintenance and care will keep your underwater housing in optimum condition and your camera safe and sound. Electronic leak detectors, with visual and/or audio alerts for when water enters the housing, are available for some models. If you maintain your housing properly, you shouldn't need a leak detector, but having one may provide peace of mind (and may help rescue your gear in time if there is a mishap). Here are some additional tips for keeping your housing, and your beloved camera, in tip-top shape:
Test your underwater housing prior to the first time you use it (or if you haven't used it for a while). Check the O-rings and make sure they're in good shape—not nicked or flattened or dried out. Submerse the housing (without the camera), preferably to at least 33 feet, and check for leaks when you bring the housing back to the surface.
Dry the outside of the housing with a soft cloth before opening it after diving. Even a couple of drops of sea water can wreak havoc on a camera's delicate electronics.
Soak the housing (with or without the camera) in fresh water for a few hours or overnight when you're done diving for the day. Work the buttons and levers to rinse off accumulated salt and debris. If, after your dive, you plan to soak your housing in a fresh water bath that is being shared with other divers, it is best to remove your camera first. As people place (or remove) their housings from the tub, the housing can be knocked around and, albeit unlikely, pop open and ruin your equipment.
Don't leave your housing out in the sun.
Follow the manufacturer's recommendations for maintenance, including cleaning, lubricating and changing O-rings. Even a strand of hair or grain of sand can cause a leak.
[Theano Nikitas, a full-time freelance writer and photographer, has been writing about photography for the past 19 years. Her digital imaging reviews, features, how-to articles, and images have appeared in a wide variety of publications and websites. Her first underwater photos were shot with a Nikonos IV.]
Note: This is the first of a two-part series on underwater photography. Tomorrow we'll talk about how to shoot underwater and how to choose the right camera for the task.