On Monday, Apple released Lion Recovery Disk Assistant, a tool that lets you fix a Mac with a corrupted or dead hard drive by creating a Lion Recovery volume on an external hard drive or USB stick.
Because Lion is currently available only as a download from the Mac App Store, there's no DVD from which to boot if you encounter problems with your startup disk and need to repair or even erase it. As a result, Apple created Lion Recovery, a partition that's part of every Lion installation that lets you reinstall Lion, repair the disk using Disk Utility, restore from a Time Machine backup, or browse the Web using Safari.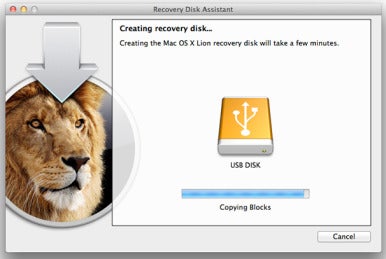 But as noted in the "Hands on with Lion Recovery" section of our Lion installation guide, because the Lion Recovery partition is actually part of your Mac's internal hard drive or solid-state drive, if that drive is having hardware problems or partition-map issues, the recovery partition itself may be inaccessible. New Lion-only Macs such as the MacBook Air and Mac mini have a built-in fallback system that lets you boot even if the entire hard drive is wiped, but older systems don't.
With Lion Recovery Disk Assistant, you can now replicate all the features of the built-in partition, but on an external USB hard drive or thumb drive with a least 1GB of free space. Apple notes that when the Lion Recovery Disk Assistant completes, the new partition will not be visible in the Finder or Disk Utility. To access it, reboot the computer while holding the Option key and select Recovery HD from the Startup Manager.
Apple has also posted a support document called "About Lion Recovery Disk Assistant" on its website with more details.