The Internet video streaming service Boxee took square aim at the Apple crowd on Tuesday, launching both an iPad application and a firmware update to its own Boxee Box hardware that includes AirPlay integration as an "experimental" feature.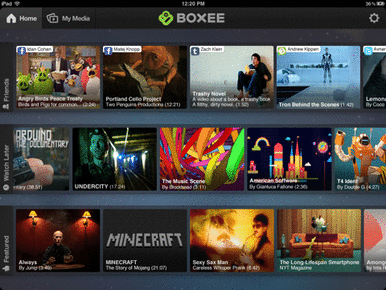 The new Boxee for iPad application lets users stream video stored on their PC to their tablet, or—assuming they also have the Boxee Box hardware—from an iPad to their television. But the application works independently of external hardware, integrating with Facebook, Twitter, and Tumblr to let users also view videos posted by their friends. The app includes a bookmarking feature as well, to save videos for later viewing.
The company is also including integration with Apple's AirPlay system in its Boxee Box 1.2 firmware update, letting users stream audio and video directly from their iPhone, iPad, or iPod Touch to AirPlay-enabled audio/video systems.
When combined with the Boxee Remote app for iPhone, Boxee says Tuesday's developments will let a user bookmark a video on their iPad, start watching it there, save it for later viewing, then view the remainder on their TV when they get home.
Boxee for iPad is free and compatible with tablets running iOS 4.0 or later. The Boxee Box 1.2 firmware update will roll out in coming days.