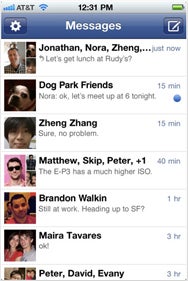 Facebook on Tuesday launched Messenger for Mobile, a new group chat app for the iPhone, along with some other Android and BlackBerry phones.
Apparently, Facebook is feeling the heat from a little social networking upstart—probably because the upstart in question, Google+, is of course run by Google. Though Facebook is the far bigger, far more popular, and far more firmly ingrained social network at the moment, it seems to be playing catchup with a few innovations from the barely-a-month-old Google+ network.
Facebook's just-released Messenger app seems to compete squarely with Google+'s Huddle functionality. Huddle—available only in Google+'s mobile apps, not on the main website—behaves a bit like group MMS. You can create as many Huddles as you'd like, and you can choose who gets to join that Huddle. Other Huddle members can add further correspondents, too. Then all the Huddle participants can exchange messages in your pro tem chatroom.
Facebook's new app—only its second foray into the App Store—hews quite closely to Google+'s Huddle. Messenger allows for group correspondence between friends you specify, and can optionally include location data for chat participants, too. Participants in your conversation who lack smartphones can still send and receive Messenger messages through traditional SMS instead, if they first confirm their mobile numbers with Facebook.
Facebook Messenger is free; it requires iOS 4.0 or later and runs on the iPhone, iPod touch, and iPad (though it hasn't been optimized for Apple's tablet).