At a Glance
Expert's Rating
Pros
Available in five colors
Compact and light
Quiet operation
Good speed
Cons
Case is prone to smudges and scratches
Our Verdict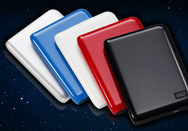 Western Digital's My Passport Essential is a portable hard drive that fits easily into your jeans pocket. It's simple to use, really quiet, and offers read speeds that closely rival other drives in its category.
Shaped like an iPod classic and with rounded corners for a clean look, the device measures 4.3 by 3.3 by 0.5 inches and weighs just 0.4 pounds. Only three clues let you know you're dealing with an external drive: the Western Digital logo on the bottom right corner, a pinhole-sized activity light on the left, and the USB 3.0 port on the bottom.
While I like the shiny plastic casing that houses the drive inside, it's unfortunately prone to smudges and scratches. A variety of cases are available for the drive, including the WD Nomad Rugged Case. Western Digital offers the drive in five colors (black, blue, red, silver, and white), but only in a 500GB capacity. Western Digital also includes a USB 3.0 cable (which you can plug into a Mac's USB 2.0 port), a two-year limited warranty, and technical support and warranty information.
A PDF user manual for the drive comes loaded onto the drive itself, along with software that's actually useful. The WD Quick Formatter program prepped the Windows-formatted My Passport Essential for the Mac use in just a few clicks. The drive also ships with WD SmartWare, a utility that lets you choose the types of files to backup, password-protect the drive, run simple diagnostics tools to check the health of your drive, and control when the drive goes into idle mode. The software was easy to setup and use, but note that it changes the icon of the My Passport Essential drive.
As for the My Passport Essential's performance, it performed admirably, especially in our USB 2.0 file reading tests. It read a 2GB folder at speeds of 37.2MBps, close to the 37.7MBps by the G-Drive Mobile USB ( ), and copied a 2GB file back to our test bed at 39.4MBps, once again close to matching the G-Drive, which had a score of 40.0MBps.
In the AJA system tests, the 38.2MBps speed it obtained in the read portion pushed it near the top of the class of drives that we've tested. As previously mentioned, the My Passport Essential offers USB 3.0, which is unfortunately not supported by the Mac, but will work with the Mac's USB 2.0 ports.
If you're sensitive to noise, you'll be happy to know that the My Passport Essential is one of the quietest hard drives we've tested. Only when I held it up to my ear (when is anyone really going to do that?) could I hear the drive working.
Macworld's buying advice
The My Passport Essential gives you plenty of hard drive space in a compact and lightweight device, making it much more convenient to keep your important information as close as your pocket.
Note: When you purchase something after clicking links in our articles, we may earn a small commission. Read our affiliate link policy for more details.