Shake-a-Phrase is an education app that uses silly sentences to teach kids vocabulary and parts of speech. Your kids might get a kick out of the oddball phrases randomly generated by Artgig Studio's $2 offering for the iPhone, iPod touch, and iPad, but there are few features to recommend this middling app.
Aimed at kids between the ages of 8 and 12, Shake-A-Phrase has three modes, the most prominent of which is Shake It. In this mode, you shake your iOS device (or tap a handy button) and the app auto-generates a sentence using a library of 1700 or so words—something along the lines of "A cowardly diver tempted then heard an anxious senator" or "The brainy parent painted a quick baker by the salon." Tap the adjectives, nouns, or verbs in the sentence, and a pop-up window shows the part of speech and a quick definition (usually covering up a chunk of the sentence in the process).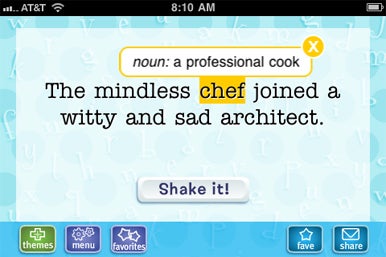 Shake-A-Phrase's other noteworthy mode is Quiz Me. Again, a randomly generated sentence appears, and kids are instructed to tap all the words represented by the designated part of speech—noun, verb, or adjective. Correct answers appear in green, and incorrectly tapped words are highlighted in red. There's no penalty for guessing wrong, though—the app doesn't keep score, and once you've tapped the right words, you can move on to the next sentence.
(A third mode—Story Starter—randomly generates a phrase that kids could, in theory, use to concoct their own story. There's no other feature, apart from a Shake It button in case phrases like "What if there was a shrewd archaeologist downtown…" don't get the creative muses to work.)
Kids may enjoy some of the sillier phrases, and Shake-A-Phrase includes some nifty sound effects when a sentence gets randomly assembled. But there's not a lot of meat to this app. As fun as some of the phrases are, they lack context—it's hard to find much meaning in "A mindless bear ruled a graceful toddler"—and that will make it hard for lessons about parts of speech to really sink in. There's no accessible list of words, either, limiting Shake-A-Phrase's utility as a vocabulary builder.
The quiz mode stands out as an especially missed opportunity. Parents will be dismayed that there's no way to measure their kids' performance if, for no other reason, than to see if they're making any progress on learning to identify nouns, verbs, and adjectives. And kids will grow quickly bored by the lack of achievements. You don't get a sticker or a badge or an acknowledgement for answering questions correctly—you just get to answer more questions. The quiz never seems to end, either; I got as far as level 21 before calling it a day.
There's nothing particularly flawed about Shake-A-Phrase, but there's nothing particularly noteworthy about it either. It's a nice idea for putting a theoretically fun spin on what might otherwise be a tedious subject for kids, but the app suffers from some mediocre execution.
[Philip Michaels is Macworld.com's editor.]