Browse the virtual shelves of the App Store's gaming section, and it won't be too long before you stumble across something involving a zombie. From battling plants to working the land, there are enough brain-eaters lurching around the App Store to rival the climax of a George Romero movie.
Given the ubiquity of the undead on iOS devices, then, is there really a need for another zombie-themed game? If that game is Zombie Gunship from Limbic Software, the answer is an emphatic "yes," carved in granite letters visible from space.
In Zombie Gunship, you're ensconced in a flying fortress circling endlessly over a bunker in which the last remnants of humanity have taken refuge. Every so often, you'll spy another survivor dashing across the afterscape to safety—unfortunately, a horde of zombies is usually in pursuit. Your mission: Gun down the zombies before they can reach the bunker without catching any civilians in the crossfire. If a zombie breaches the bunker or if you terminate three civilians, your mission comes to an end.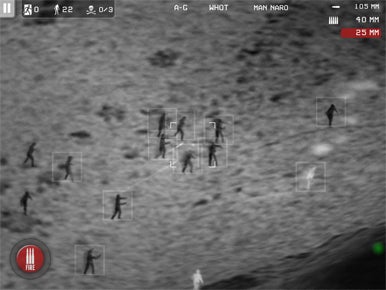 Your gunship comes equipped with a 25mm Gatling gun, but you have the opportunity to make sure that you're well-armed for the zombie apocalypse. You can buy upgraded weapons as well as improved technology so that your guns load faster, shoot farther, and inflict more collateral damage. You can either come up with the coins for these upgrades via in-app purchases or by racking up impressive zombie body counts. To the credit of Zombie Gunship, the amount of coins earned through playing seem more than generous—a couple of missions is all it takes to noticeably bump up your firepower.
Tapping the upper right corner of the screen lets you switch between weapons, while a fire button in the lower left corner pulls the trigger. The controls work as well on the iPhone as they do on the newly released iPad version of the game, though sometimes, in the heat of battle, I would occasionally think that I had the Gatling gun selected when, in fact I was firing off a Howitzer. That's a mistake you don't want to make when too many civilians are fleeing into the blast radius.
The graphics in Zombie Gunship have a decidedly low-tech feel—it's a grainy black-and-white, not unlike the view you'd get from a surveillance camera (or a scope trained over an unforgiving afterscape, for that matter.) And that's to the game's credit—the graphics really help create the kind of intense atmosphere you'd get in the most edge-of-your-seat monster movies. (And as grainy as the graphics are, you still get a lot of details. Fire off weapons, and you can see dirt and dust kick up as the bullets and shrapnel fly.) Top-notch sound effects—the crackle of a radio barking out orders, the eerie ambient noise of the airplane, the wail of a siren warning you of an imminent zombie breach—also add to the mood.
There's a lot of blasting fun to be had in Zombie Gunship, but it's not simply a matter of holding your finger down on the trigger and letting the zombie parts fall where they may. For one thing, there are all those helpless civilians dashing about, and they really don't react well to getting pinned down in a hail of friendly fire. For another, that Gatling gun can overheat if you fire it too indiscriminately, while other weapons need time to be reloaded. In other words, some degree of strategy comes into play.
All of these elements—the strategy, the graphics and sound, and yes, the undeniable thrill of sending the undead back to the grave they crawled out of—make for a compelling iOS game. iPhone and iPad gamers may have a horde of zombie-themed games clamoring for their attention, but few deliver on as many levels as Zombie Gunship.
[In the inevitable zombie apocalypse, Macworld.com executive editor Philip Michaels has your back.]