Film and TV aficionados now have another option when toting their iPads: Video-streaming service Vudu announced on Wednesday that it's begun offering the ability to rent, purchase, and watch movies right from Apple's tablet.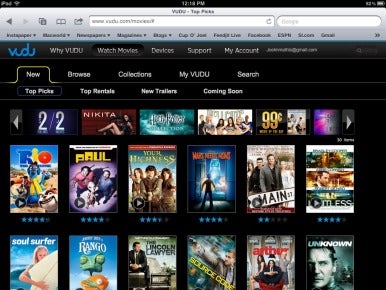 Unlike Netflix or Hulu, Vudu uses a Web-based interface instead of a native iOS app. By visiting vudu.com in Safari on your iPad, you can browse through the available films, select one, and start watching it right away (provided, of course, that you have or sign up for a free Vudu account).
However, video streams are available only in standard definition (SD) due to licensing restrictions; you can use the iPad interface to purchase an HD title, though, which you can then watch on one of your other Vudu-capable devices. (Vudu support is built into the PlayStation 3, as well as many brands of Blu-ray player and HDTV; you can also use the service on PCs and Macs.) In addition, if you've already purchased a movie in HD or Vudu's HDX format, you can watch it in SD on the iPad.
There are also some content limitations on the iPad, again due to licensing restrictions: Currently, no titles produced by Disney are available for streaming on the iPad. As with HD content, though, you can purchase these titles through the iPad Web interface, and then watch them on another Vudu-supported device.
By adding iPad support, Vudu is throwing itself into the video-streaming ring, facing off against services like Netflix, Hulu, and even Apple's own iTunes Store. While it may not offer the same all-you-can-stream model as Netflix, Vudu's rental model would seem to place it squarely at odds with iTunes, except with support for a wider variety of devices.
Vudu's pay-per-view model also offers a better content catalog than Netflix's, as there are plenty of new and recent releases to choose from. The exception, of course, is that Disney content—but it isn't exactly surprising that it's the lone holdout, given the company's close ties to Apple. (Apple CEO Steve Jobs is Disney's largest single shareholder and sits on its board of directors.)
As to why Vudu chose to go the Web route instead of a native app, plant a bullseye on the App Store's recent rules for in-app content purchasing. Like the Kindle Cloud Reader app, also released on Wednesday, Vudu can use the Web-based interface to avoid paying Apple the 30-percent cut that it takes from all purchases made through applications.
It's worth noting that Vudu is owned by Walmart and that this isn't the first time that the retail giant has tried to take on the iTunes Store in digital media: The company launched a digital music store in 2004, but Walmart announced earlier this week that it would be shuttering the venture.