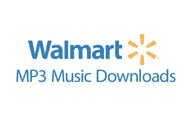 The battle for the digital music arena has lost one of its earliest players, as Walmart announced Tuesday that after almost eight years in the business, the Walmart.com Music Downloads store will shut its virtual doors on August 29.
According to a statement provided to Macworld, Walmart "recently notified our music partners that we've made a business decision to no longer offer MP3 digital tracks as of August 29, 2011." Customers thankfully won't be left in the dark: Anyone who purchased digital music from the store will still be able to seek support for any issues.
Walmart's initial foray into downloadable music came in late 2003, seven months after Apple introduced the then-called iTunes Music Store and just two months after iTunes became available for Windows and Mac users alike. After several months of beta testing, Walmart officially launched the store on March 23, 2004, offering DRM-locked Windows Media (WMA) files at 88 cents a piece, compared to the iTunes Store's 99-cent price point for AAC files (using Apple's FairPlay DRM).
Despite the store's obvious competition with iTunes, Walmart showed little to no interest in targeting Apple's customers, instead opting to focus on the Windows PC market. The store's download manager was Windows-only at launch, and its original download format, WMA, wouldn't play on the iPod. Instead, users turned to iTunes: By the end of 2004, Apple had sold more than 200 million songs on its store.
Walmart eventually expanded its downloads store to include DRM-free MP3s in August 2007 (perhaps to target Apple's 100 million iPods sold), but still refused to offer downloading directly to Mac users until October 2008, at which point the company rebooted its MP3 store and slashed prices to start at just 74 cents a track. But by April of that year Apple had displaced both Walmart's online and brick-and-mortar efforts to become the top retailer for music (digital or otherwise); Walmart dropped to number two.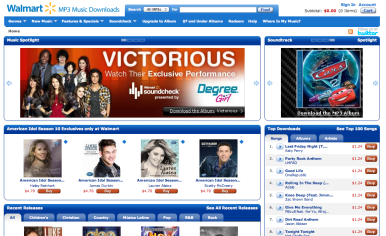 As CD sales faltered, Walmart tried new tactics—it adopted iTunes's variable pricing scheme, again undercutting iTunes and the Amazon MP3 Store in terms of per-track pricing, but to no avail. By August 2009, one in four songs was purchased from the iTunes Store, according to a report from market-research firm The NPD Group. In contrast, the second-place music retailer—Amazon—held a mere six percent of the music market.
Given iTunes's dominating control of the digital music market and the increasing popularity of other services—including streaming services like Spotify—Walmart's surrender of the digital music market is not wholly unexpected.
And the company may have found a different focus for its digital media interests: streaming video. Walmart bought streaming service Vudu in February 2010; since then, the company has expanded Vudu's library, targeted more devices— including Apple's iPad—and is seeing a steady increase in users. According to a statement provided to Macworld from Walmart, the company has tripled Vudu's customer base in the last eight months, and "continues to be very pleased with customer response."